BLOOD HEIR releases tomorrow. Well, the ebook releases tomorrow. The print was a little earlier, so everyone could have better chances of reading it on release day. But the ebook is the big release. That reminds me, I will put a spoiler post up tomorrow. Please refrain from spoilering until then. Be strong. 🙂
Normally I would be in knots about it, but it's self-published, so the anxiety level is way down. If it doesn't do well, the only people who will disappointed are Gordon and I and our lovely agency. But despite the lack of anxiety, there is still an uptick in things that need to be done on top of regular writing.
We are busy. Busy, busy. When we are not working on something, we are thinking about working on something. It doesn't help that I have a side project which is helpfully eating my brain.
As you know, we have a number of animals. This is one of them.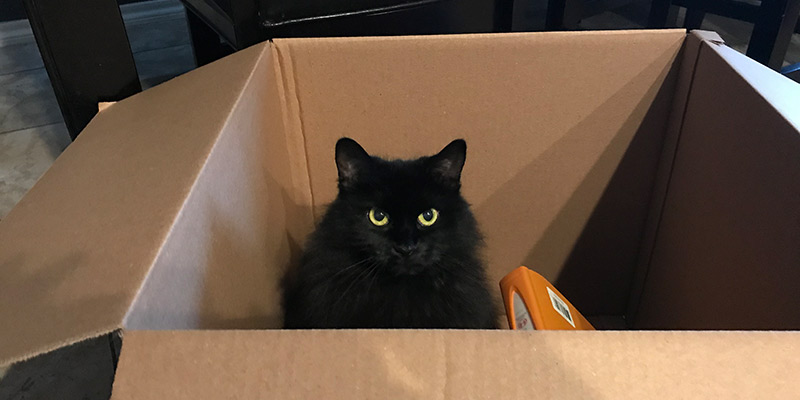 Her name is Salem. She is 16 years old and she is a bad cat.
She swats other animals at random. She tries to sharpen claws on the furniture even though there are 6 cat scratching posts right next to her. And if there is food left on the island, she will knock it down. She will eat some of it and then the dogs will finish it off. She knocked down pizza boxes. She knocked down rotisserie chicken which was cooling off so it could be refrigerated. We spent very anxious 24 hours because the dogs had eaten some of it and chicken bones are not good for the dogs.
So all food has to be either refrigerated, or if it's take out that everyone is still munching on, placed into microwave or the oven. She hasn't figured out how to open the oven yet.
Yesterday Gordon was kind of down. Not depressed really but just not his usual self. We had a Texas blizzard and a fire in the fireplace and even that failed to cheer him up.
So about 7:30 in the evening I had a brilliant idea. I would make chocolate chip cookies. Nobody can be that sad while eating chocolate chip cookies. I have this awesome fool proof recipe that makes chewy cookies, just like he likes. I turn on my oven to 375 to preheat, I get all of my ingredients, all the while thinking about a scene I want to write, I mix the white and brown sugar with flour, and then I smell the smell and the smell says "Plastic is melting!" and "Hi, I'm toxic!"
I turn the oven off and I open all of the windows. The air is freezing. The temperature in the kitchen plummets.
Kid 1 runs in. "What's going on?"
Me: Remember how we ordered Chinese yesterday? I just melted the lot of it in the oven.
Yep. I had cooked the Chinese food plastic containers. The day before was the cleaning day, where we scrub everything. I had scrubbed the inside of the oven. I had sprayed it the night before and then resprayed it that morning and I spent about 30 minutes and a lot of elbow grease cleaning it. The tradition is, on cleaning day we get take out, because nobody wants to cook and make the kitchen dirty.
We had Chinese. We put it in the oven to hide it from Salem. We forgot about it.
So she gets a garbage bag. We get masks. I open the oven. A cloud of toxic fumes erupts. I grab container and shove them in the garbage bag, all except the last one, which literally melts and falls apart as soon as I grab it.
We shut the oven, wait for fumes to dissipate, and I open the oven again and start shoveling the food that fell out of the container out with a spatula.
It took a lot of time and scrubbing in the frigid kitchen. The oven is finally clean. I cooked the cookies in the other oven – we have two because this house is fancy – and they were delicious.
I hope that damn scene was worth all the trouble.