This is a Chinese Fantasy/Martial Arts drama, available on viki. Romance, martial arts, magic, and happily ever after. Which doesn't typically happen in Chinese historical or pseudo-historical drama because only Communist path can guarantee happy future.
Verdict: Liked it a lot.
It's a nebulous historical time in China. The country is ruled by an Emperor and within it there is a martial arts world, which is almost a nation onto itself. In the past a very powerful martial arts sect, Dark River, threatened the entire martial arts world with its evil magic and all of the warriors came together to fight against it. In the aftermath, three main sects emerged: Flaming Hills, World Swordless City, and Thunderbolt Clique.
Lie Ruge is the daughter of the Flaming Hills sect leader. She was set to marry Zhan Feng, the orphaned son of her father's best friend. Zhan Feng is outstanding in everything: he is a great martial artist, handsome, smart, and loves her. Except that he abruptly brought a women from a brothel to the sect headquarters and now he doesn't want to marry Ge'er anymore.
Lie Ruge leaves the sect to go into the world and travels to the most exclusive brothel in the land to figure out what is so special about brothel women. There she meets Yin Xue, the brothel's mysterious owner with mystical powers, who abruptly announces that he has been waiting for her his entire life and will now follow her wherever she goes. Lie Ruge is not wild about that idea.
And so starts the chain of events that will bring the sects of martial arts in conflict with each other, throw everything in chaos, and threaten to destroy the entire country.
I enjoyed this a lot. The wirework was superb, the costumes were great, Dilraba Dilmurat – she is an Uigur actress – was great as Lie Ruge, Vin Zhang was awesome as Zhan Feng, Liu Ruilin had a very unusual role as a paraplegic deaf prince. He was really outstanding. I liked that Lie Ruge grew stronger. I liked the politics of the sects.
My main problem with this drama was Vic Chou.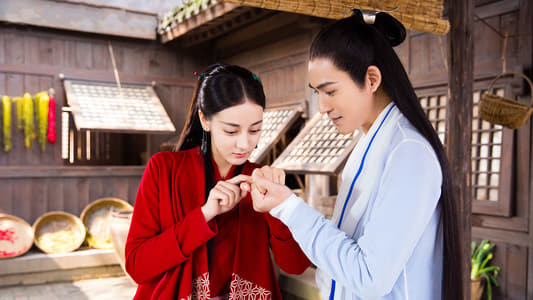 Xin Yue is supposed to be unearthly beautiful. Vic Chou is very handsome, but not beautiful and the hairstyle didn't do him any favors. He kind of looked goofy half of the time. Compared to Zhan Feng, who looked so stunning, Kid 2 walked into a room, saw him on the big screen, stopped and said, "Wow, that's a ridiculously pretty guy." I liked the Zhan Feng's character better overall.
I liked what Vic Chou did with the role, I liked what Dilraba Dilmurat did with hers, but if she had ended up with Zhan Feng, I would've been 100% fine with it.
Also pacing could be better. I did fast forward a bit, but this is also because I can pretty much tell the purpose of the scene from the first few lines of dialogue and I have no patience for tragic moping.
This has now edged out the Story of Yanxi Palace as my #2 Chinese historical drama, simply because it Yanxi Palace, as addicting as it was, depressed the hell out of me, while after watching this I felt happy.