Hi everyone, Mod R here.
I promised I would let you know when preorders will be available for the paper format of Magic Claims and I'm a Mod of my word.
Preorder in paperback now at following retailers:
This isn't an exhaustive list, of course, please check your favourite retailer's catalogue, like Booktopia if you're in Australia. The list will soon populate for other international partners, like Wordery.
I can only add one link, so I chose .com, but please select the Amazon country you usually order from, it is available for purchase internationally. As with Magic Tides, if you order through Amazon, some of your copies may ship in advance of publication day, and some only on publication day and get to you with a slight delay. They are still Beta testing the system, please don't be alarmed if you get your copy early, all is well.
If you are a library or an indie bookstore, or you want to order it from an indie bookstore, you will need the Ingram Sparks ISBN, which is ISBN: 9781641972680.
It should also be available on Libby.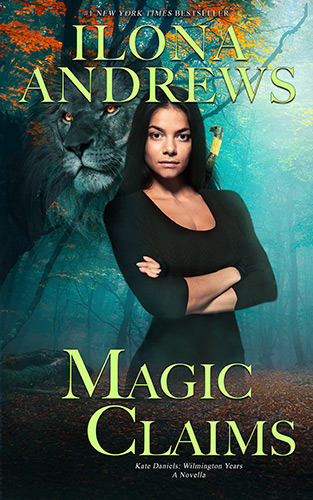 Magic Claims
KATE DANIELS: WILMINGTON YEARS 2
AVAILABLE ON JUNE 13, 2023
A new town, new friends, new challenges…. And a new heart-stopping adventure from #1 New York Times bestselling author, Ilona Andrews. Kate, Curran, and Conlan may have left Atlanta for Wilmington, but the usual magic mayhem has also hitched a ride!
Kate and Curran have just settled into their new home and their 'low profile,' when a local businessman approaches them with an offer they can't refuse. A mysterious evil has spawned in the nearby forest and is holding a defenseless town hostage. The 'due date' is rapidly approaching.
It's exactly the kind of fight the Lennarts can't resist, not for the prize the town offers, but for the people who will surely die if they ignore it. If they succeed, they'll be rescuing an entire community and can build a strong new base for their family and the Wilmington Pack. If they fail…well, fail is a four-letter word.
Nothing comes without a price. Now Kate must decide if she has what it takes to pay it.
BOOM! How's that for a blurb, I can't wait for you all to read it, it's one of the most suspenseful Kate adventures yet! You can start with an excerpt here.
My train of thought is more a Roomba of thought today, but a couple of updates from the last time we spoke:
Magic Claims is now longer. So much longer! Almost double the size of Magic Tides. We're going to eat well in June, Horde. I hope you like magic clams hehe.
Reminder that the audio format will come in a bundle of Magic Tides and Magic Claims, and it will most likely be released at the same time as the book, on June 13th, give or take a couple of weeks in case the unexpected happens.
As of right now, signed copies will be available only during the virtual signing House Andrews are organising for the release, but if you want to order copies with signed bookplates from a brick and mortar bookstore, please let us know.
Speaking of release week: only 26 days away! If there are any release events or things you want to see or ask, comment below and I'll make one of my trusted lists.
Here are links for the ebook preorder too, just in case. Even if it's just to check that you've already done it. I know I'm not the only one who *needs* to look and tries to reorder books I've already bought months ago.