Grace Draven through Facebook: Hey,  AMID THE WINTER SNOW anthology is up for preorder and I have a story in it. If I bribed you with two bottles of wine and a sacrificial chicken, would you be willing to  mention the anthology in a blog post?
Me: Give me a snippet and I'll do it.
Grace: Thank you.  Do you still want the sacrificial chicken?
Me: Yes.
Me, calling: This has no sex or violence in it.
Grace, attempting to avoid a semi: I'll send a different one.
Jeffe Kennedy through facebook: Hey, Grace said you wanted sex or violence.
Me: Yes.
Jeffe: This has tongue bits.
Me: Oh good.
Excerpt from Grace Draven
In The Darkest Night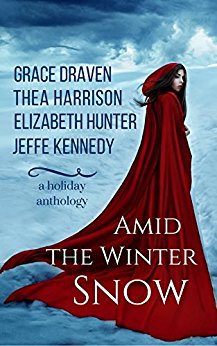 Radimar started out as defender in the duel but turned the tide, becoming the aggressor as Alreed slowed, and his shield arm tired.  Frustration replaced cool-headed calculation, and he began leaving openings in his defenses that Radimar exploited with zeal, landing blows that didn't cut but bruised, beat, and wearied his opponent.
When Radimar smashed his boot heel into Alreed's inner thigh, the champion's bellow carried above the audience's cheers.  He staggered to one knee, shield and sword raised in full defense as Radimar battered him with both swords.
They had traveled from the arena's center to its muddier edge.  Intent on delivering a relentless beating to his adversary, Radimar didn't notice until it was too late.  One step landed him outside the straw and onto the slippery mud.  He stumbled, and Alreed saw his chance.
With a triumphant shout he lunged forward, head-butting Radimar hard enough in the stomach to knock the wind out of him.  Both men crashed to the groud, Alreed on top of Radimar.  The champion abandoned his shield to rip at Radimar's helmet and expose his head for a skull cracking.  Radimar heaved to one side just in time to avoid the full impact of a blow as Alreed drove his sword pommel toward Radimar's face.  The pommel clipped the edge of his helm and caught the curve of his cheek just below his eye.  For a moment, Radimar's vision went black on that side, and the inside of his skull vibrated.
He had managed to keep a grip on his own swords when he fell and used their ends to slam them into into Alreed's sides.  A satisfying pop sounded, and Alreed groaned.  It wasn't enough to dislodge him.  The swords were too long to maneuver in the close space between them.  Radimar released one and used the heel of his gauntleted hand to smash it into the underside of his opponent's chin.
This time Alreed screamed and hurtled backwards, but not before showering Radimar in a spray of blood, teeth and what he suspected were bits of Alreed's tongue.
Radimar sprang to his feet, snatched up his sword and retreated back to the straw as he waited for Alreed to rise.  The side of his face throbbed hard enough to make his entire head pound and he wiped away blood not his own so he could see properly.  Had the champion's blow struck him full on, he would have killed Radimar.
Alreed rose on a stagger, blood coursing from his mouth and down his chin in a crimson stream.  He grinned at Radimar, revealing broken teeth and spaces where no teeth remained.  His breathing gurgled, and he spat gobbets of blood into the straw.  Animalistic growls vibrated from his throat as he retrieved his sword and shield.  The man who said he'd take Jahna like a dog was transforming into one himself, made rabid by pain and fury.
Sensing that this duel, begun as an exercise of frivolous entertainment, had turned both personal and deadly, the crowd screamed for more.  For Radimar, their screeching was nothing more than a whisper.  There was only Alreed and his defeat.
It didn't take long after that.  The swordmaster of Ilinfan proved to all who witnessed the fight that those who trained with the Brotherhood of Ilinfan knew and understood the art of the sword like no other.
Alreed's attacks had lost all finesse, becoming nothing more than the charges of a maddened bull.  Radimar dodged them effortlessly, using his own swords either to deliver more of the shallow cuts or the pommel of the blades to land bruising strikes.  When the disappointed king finally declared him the winner, Radimar had Alreed on his knees, facing the king, one of Radimar's blades pressed to the champion's throat in the sign of victory.
People roared his name and soon a hail of flowers, ribbons, scarves, gloves and hats rained down in the arena, pelting Radimar as he saluted the king and walked away from the now prone and bloodied Alreed.  The sound of his name shouted in chant filled the night air, but the triumph he felt sprang not from the crowd's adulation but the internal satisfaction of wreaking vengeance on the man who had insulted a woman so undeserving of the offense.
Once more he paused before Lord Uhlfrida whose jubilant expression assured Radimar he'd just made his employer a wealthier man than he had been earlier in the day.  Jahna's own features held a mixture of joy and fear.  For him.  She clasped her hands together and offered him a low bow, one mimicked by her father.  Radimar bowed in return and tapped his shoulder where the brooch rested unharmed under his hauberk.
He exited the field, now littered with favors of every type and met a grinning Sodrin who looked ready to jump out of his skin from sheer elation.  "That was incredible!  I've never seen the like in any Exhibition!"  He inhaled a long breath to calm himself.  "And you defended my sister's honor," he said in a much more even voice.  "You were right, Sir Radimar.  You didn't kill him, but you sure made him wish you had."
#
Excerpt From Jeffe's Kennedy, because she got roped into this and she isn't even getting a chicken out of this deal.
The Snows of Windroven.
********
"I never intended to cause you pain, Ami," I told the top of her head as she worked to clean the cuts. Brutally insufficient words to describe the depth of what I'd never intended. Beginning with laying a finger on her royal, unblemished skin. Even with her tending me out of simple sympathy, in broad view of the travelers on the main highway, the least brush of her fingers on my skin brought up the insatiable lust for her, hard and hot.
She looked up at me and creaked out a smile through still damp eyes. "I know that. And you've made me so happy." She took a deep breath. "I always understood, though, that this was temporary."
"We both understood that, from the first night by the lake."
Her smile went tremulous. "When I seduced you, despite your better judgement."
I laughed, though it never comes out right. It always sounds more like a groan scraping out of my scarred throat. "Everything with you has been against my better judgement, Ami. And I've never been able to help myself. You burn so bright."
"Like staring into the sun," she said, an oddly sorrowful crease at the corners of her eyes. Her innate magic made her beautiful even in tears and other extremes of emotion—and my passionate queen ranged through many extremes—so rarely did she look as she did now, smudged with unhappiness, dented by my careless handling of her. "Do you remember when you said that to me? You said you were afraid you'd come away burned and blinded."
"I remember," I allowed. I did so much better with silence. I should never have broken my vow. If I hadn't, we wouldn't have come to this pass.
"You said that if you stared into the sun too long, you'd be immolated, and the only freedom for you would be to stay far, far away."
Never mistake that a mind sharp as a sword lies behind that pretty face. She likely remembered every word I'd ever said to her, both the wise and the incautious.
Preorder Links: Amazon | iTunes | Kobo | Smashwords | Google Play
You get violence with tongue bits, I get chicken and wine, so we are all set.