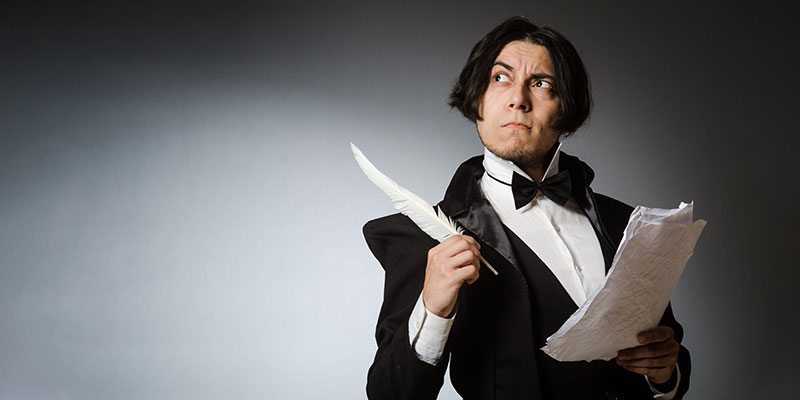 Do you have a list of book ideas somewhere that are very out of your usual genres or don't have time for? Have you ever thought about starting over under a pseudonym?
Yes, but probably not for the most obvious reason. 🙂
Let's cover the more traditional uses for a pseudonym. From a publisher's point of view, a pseudonym allows for a creation of a snappy author brand and it's often carefully chosen to both be memorable, hide or reveal gender, and evoke a certain feeling. Pseudonyms are also chosen for the obvious consideration of privacy, but we will deal mostly with business reasons in this post.
Suppose your name is Leopold Swietokrzyski. 99% of English speaking readership won't be able to spell this surname correctly. I am Slavic and I would have a difficult time spelling this off the top of my head. I could probably do it in Russian, because my brain is breaking this Polish surname into sviet and krug, which means light and circle (or county) respectively and may not even mean those things in Polish. But the English spelling is a bit out there. So Leopold Swietokrzyski becomes something like Leo Nowak or Leo Mazur. Easier to recall and easier to fit onto the cover.
Sometimes the pseudonym is chosen to hide gender. In 1960's there was a real bias against female SF writers. Alice Bradley Sheldon became James Tiptree Jr. According to her, "A male name seemed like good camouflage. I had the feeling that a man would slip by less observed. I've had too many experiences in my life of being the first woman in some damned occupation." Carolyn Janice Cherry became C.J. Cherryh to both hide gender and to make the name sound less like it belonged to a romance writer, a change suggested by her first editor.
Sometimes the pseudonym is chosen to switch genre. In 1995, the name Nora Roberts was synonymous with romance, so when she chose to write a futuristic police procedural, she adopted a pseudonym of J. D. Robb. The two audiences would not necessarily intersect, and any reasonable person could foresee that if the new series was published under Nora Roberts, romance audiences would go into it expecting a contemporary romance. The use of a pseudonym helped to avoid disappointing reader expectations and allowed to better orient the book toward the audience that would love it most. When you are that established in one genre, sometimes a radical change requires a new name.
This is a risky move. For an author, an established audience is a guarantee of a certain income. We build it reader by reader, and we treasure it. However, there are times when that audience is abandoned for business reasons.
Suppose there is an author named Stella Butler. (I randomly generated the name.) Stella Butler writes cozy mysteries about a woman who works as a baker by day and solves mysteries at night in her little town. Stella's first book does okay, her second sells a little less and her third sells a little less. The publisher renews the contract for another two books. (We are going back to the kinder days of publishing, when imprints like Ace would give you a chance to build the brand.) The next two books produce low sales, and the publisher cuts her free.
Stella Butler has a new idea. It's about a young female park ranger, who stumbles onto a global conspiracy. It's a great idea, the book is fast and snappy, and when she takes it to her agent, the agent is thrilled. There might even be a reasonable amount of cross-over between the audiences. But Stella Butler has a history of falling sales. The bookstore buyers, the people who work for bookstores and decide how much of each title they will order, won't be excited about Stella Butler. They know how her books performed already. The readers won't be excited about her either. Readers are loyal when they like your books but fickle when your work is meh. They like new, and sparkly, and different, because it's exciting.
So Stella Butler becomes Silvia Adkins (another random name) and is treated by the publisher as a brand new author who has a debut book coming out.
Choosing a pseudonym is a complex decision. Doing so destroys whatever visibility you already have, especially when self-publishing. For example, if your brand is Science Fiction Romance and you have built an audience, but then you decide to write a Fantasy Romance, choosing a pseudonym makes zero business sense. The audience is basically the same. When you publish that new book, the electronic retailers won't be contacting your existing readers to let them know your book is coming out. By employing a pseudonym in this case, you would destroy the discoverability of your book and start from zero.
For Gordon and I, "Ilona Andrews" is our brand. We've written an Urban Fantasy, a Science Fiction Romance, a Paranormal Romance, a Science Fiction/Fantasy and you guys followed us from series to series, probably because all of our work has the same elements: humor, action-heavy plots, and most importantly, similar tone of the character interactions. As long as we're writing in a related genre, it would be foolish to hide. Yes, we do have a list of ideas, and the projects we decide to work on are carefully chosen to both be creatively exciting and still, hopefully, appeal to our existing readers. We have to earn a living.
We do have an idea for which I personally would choose a pseudonym. It's not exactly a YA because it has an adult tone and deals with adult issues, but it has a young protagonist. To be blunt, I wouldn't want anyone to know that we wrote it. In a perfect world, I would give it to a publisher be like, "Hire someone to pretend to be the author." {This is not usually a thing, by the way.}
I would do this because it's a brutal book, and I wouldn't want to deal with people going on and on about how this is not what they expected and why is the protagonist 17 and omg, how dare they write books about young people and put violence and sex into it. Young people are never involved in violence and they never find themselves in sexual situations. 😉
So the pseudonym in this case would be mostly for my peace of mind. I would read all the reviews that are incensed by the savagery of the book, sip my tea, and giggle, because it wouldn't be Ilona Andrews who wrote it, but Joe Bobbs. And now you know my private publishing fantasy. 🙂