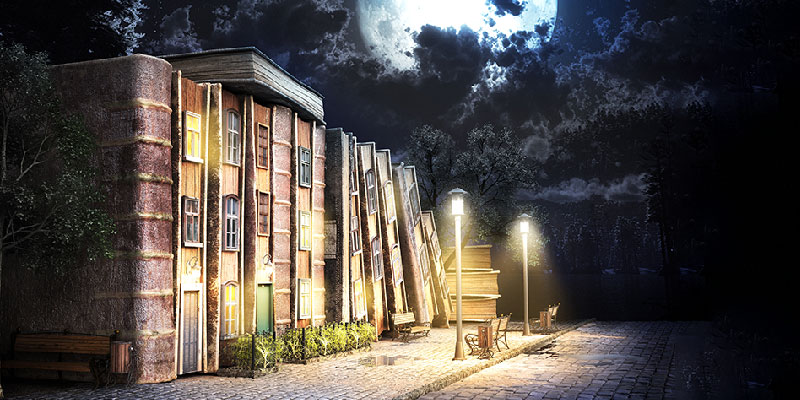 From Ilona:
Like most prolific readers, I started reading in childhood. My regular library haul, which I carried over two tramway stops to my home in a canvas bag, usually required me to stop a few times and rest, because dragging 8 hardbacks over long distances was a bit much for a 9 year old. Some of those books left a huge impression on me. So of course, when I had my own children, I wanted them to read the same books.
Except that I realized as an adult that some of those books I used to love have problems. My children don't need to be exposed to USSR-spawned propaganda, not matter what feelings I have attached to it. If I let them read something like that, it came with a caveat of "see how you are being manipulated."
Books are no longer static things. Ebooks make editing even a published book a snap. The book you have read as a child might be very different now.
The great thing about human beings is that we learn and adapt with the circumstances. Our society is very different from the way it was 30, 20, or even 10 years ago. The past already happened. The more important thing is what we do going forward.
With that in mind, let's get to the reason for this post.
It's that time again! The old book recommendation thread is too long and cumbersome, so Mod R made a new one.
From Mod R:
We want your new favorites! Please post your book recommendations and your requests for books to read in the comments, all genres welcome. The recommendations on posts following this one will be removed to keep those discussions on topic.
Four Things to Keep in Mind
To make this post as helpful as it can be, we ask you to keep in mind four things.
First, before you recommend something, ask yourself how recently you read or reread it. If it's a childhood favorite, does it hold up? Please do your due diligence, especially if it's a recommendation aimed at a young reader. Do you feel comfortable handing this book to a child today? Skim it, you might be surprised. Some books are timeless, others…not so much.
Second, please try to focus on newer books. We all have read and admired the genre classics, such as the work of Mercedes Lackey and Ray Bradbury, but this is your opportunity to let people know about your new finds.
As an aside, last time Ilona did this, an author made a sock puppet account (fake account) and recommended her own books. She found them amazing. Please don't do that.
Third, when responding to people asking for books to read in the comments, please make sure your recommendations are on topic. We all like books, and we get enthusiastic, and it's easy to hijack the discussion. If the person is asking for PG 13 books about teenage vampires being bullied in school, recommending books by Julia Quinn, as awesome as they are, probably won't help.
Fourth, please limit your comment to one favorite title, unless you are responding to someone asking for something specific. If you list every Urban Fantasy author in your comments in a giant wall of text, people will just skim it. Pick one and tell us why you liked it so much.
As usual, if you see your favorite book already recommended, please feel free to reply to it with your own take on it or just drop a +1 rather than making a separate thread on it, otherwise it just becomes too unwieldy and people's eyes start to twitch. I received a scathing email on the previous recs post about not knowing how to do my job, because there were too many threads about the Murderbot Diaries series and the reader was NEVER, do I hear, EVER going to touch it after having to scroll past it so many times. Heh. So if I trim things here and there in repeat conversation, don't begrudge me.
So to reiterate:
If it's an old favorite, reread or at least skim before recommending.
Try to focus on new books.
Keep the recommendations on topic.
Limit your comment to one favorite title and list the reasons you love it.
There's something else I've been meaning to address for a while. This blog has a newsletter, which goes out to several thousand people as a reminder that there has been a new post. Because it has to reach so many addresses, it usually has a 1 day delay from when the article goes live on the website for everyone. That's just the nature of the beast, things are not being kept from you. If you reply to the newsletter reminder email- please know that those comments aren't public. They do not count as recommendations for your fellow fans, or as contest entries, nor are they a contact form etc. The blog posts and comments are here, on the Ilona Andrews website and you can access them by clicking on the title of the post you receive in your email or the "Read in Browser" link at the end. So if you have books to share today and you're reading this in an email, please click below and come to the websites to join the discussion!