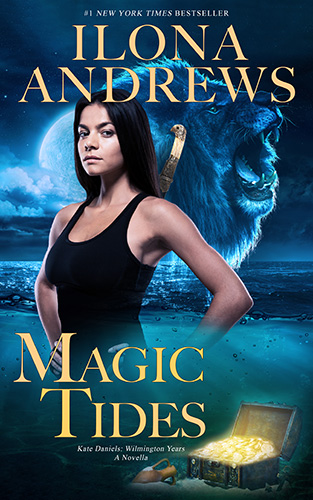 Magic Tides
KATE DANIELS: WILMINGTON YEARS 1
KATE DANIELS 10.5
AVAILABLE ON JANUARY 17, 2023
Ilona Andrews invites you back to the #1 New York Times bestselling Kate Daniels series in this exciting new long novella featuring Kate, Curran and Conlan, some familiar faces, some new friends, and all the special brand of chaos they create!
Kate, Curran and their son, Conlan have left Atlanta, vowing to keep a low profile, and are settling into a new city and new house…but some things never change! Magical mayhem is about to erupt when Kate undertakes the rescue of a kidnapped youth, while Curran guards the homefront.
It should be a simple retrieval, but with monsters on land and sea, Kate's got her work cut out for her. Still, she's never let her blade dull or her purpose falter. And that low profile? It's about to wash away with the raging tides!
PREORDER FROM ONE OF THESE FINE RETAILERS:
Excerpt
Chapter 1
Kate
Ms. Vigue adjusted her bright red glasses and peered at me from her perch on the sofa in our second living room. We were in the middle of renovations, and the second living room was one of the four functional rooms in the entire place.
Ms. Vigue was in her early fifties, with lightly tanned skin and ash-blonde hair cropped short and brushed back from her face. Her eyes behind the lenses were either gray or pale blue. She wore a silky green blouse with a light gray skirt and looked put together enough to attend a business brunch.
I wore a pair of old shorts and a paint-stained tank top over a sports bra, because I had been painting one of the spare bedrooms when Ms. Vigue arrived unannounced. I'd pulled my brown hair into a bun and pinned it in place with an old bandana to minimize the paint exposure, and since that side of the house had neither fans nor any either way of cooling, I smelled like a lumberjack after a long day at work. Making a great first impression on a school administrator – check.
We smiled at each other. Ms. Vigue was doing her best to appear approachable, while I did my best to appear harmless. We were both lying as hard as we could.
Making small talk was not among my few virtues. "I was under the impression that we were already done with the admissions. You sent us the acceptance letter."
Which was part of the reason we moved here and got stuck in the renovation hell.
"You are correct." Ms. Vigue offered me a quick humorless smile. "Our school is unique."
You could say that again. It was so unique, it cost an arm and a leg. We jumped through two months' worth of hoops and paperwork just for the privilege of an interview, and then spent another month waiting for their decision. They came highly recommended, but I was done with their nonsense.
"We like to think of our student body as being truly representative of the diverse world we live in."
Ms. Vigue slid into her speech mode. It probably worked wonders on trustees and alumni during their fundraising.
"It's a special place where students of different backgrounds come together. This interview will help us to better understand your child's needs and enable us to ensure their safety and help them thrive in our vibrant community."
Aha. This wasn't a get-to-know-you visit, this was a threat assessment. We already went through that during the admissions. Why was she yanking our chain again?
I smiled. Curran and I had agreed to maintain a low profile after moving. Think normal suburban thoughts. How hard could this be, right? We are just a small family renovating our new home.
"Of course, my husband and I will answer any reasonable questions. Please feel free to ask."
She took out a leather folder, unzipped it, and checked the contents. "You've been recommended by one of our patrons. How do you know Dr. Cole?"
Telling her that Dolittle had patched me up far too many times to count would just derail the conversation. "He was our family doctor. He delivered Conlan and treated him frequently over the years. We consider him a family friend."
Ms. Vigue nodded and made a note in her folder. "Your son's assessment scores are quite remarkable."
Was this a compliment? If I took it as a compliment, she wouldn't be able to do anything about it. "Thank you."
"Our school's reputation ensures that we get the most outstanding applicants. Your son will be among his intellectual peers."
That would be a tall order, but I didn't need him to find his intellectual equals. I just needed him to learn to act like a person and interact with other children without the weight of his identity dragging him down.
"It's my understanding that your child is a shapeshifter."
Here we go. "Yes."
"What is the nature of his beast?"
I smiled even sweeter. "That's a highly illegal question, Ms. Vigue. The nature of one's beast is confidential and cannot be used as basis for discrimination by any educational institution in this country."
I knew this because my husband had dumped a massive amount of money and effort into lobbying for those laws to be passed before we met.
Ms. Vigue pushed her glasses up her nose with her middle finger.
Aha. Screw you too. "Would you like me to cite the relevant federal and state statutes protecting shapeshifter rights, or can we skip the formalities?"
"Of course, we cannot compel you to release that information. However…"
"Your next words will determine what I tell Dr. Cole tonight when he calls to check how we are settling in. And he will call. He is very thoughtful and thorough. I'm sure he and his seven thousand associates will take a dim view of your school attempting to discriminate against a shapeshifter child."
Her eyes narrowed. "You're going to be difficult, aren't you?"
You have no idea. "I don't know what you mean, Ms. Vigue. Did you have any other questions?"
"I will come straight to the point."
"I wish you would."
"Can you guarantee that your child will not snap and attack his classmates?"
"Absolutely. He is very much like his father. It's important to him that his resorting to violence is viewed as a deliberate choice rather than a loss of control on his part."
She blinked at me.
No matter how much social outreach shapeshifters did, other humans never forgot that each one of them was a potential spree killer in waiting. I had expected better from a person who worked with children.
"Since we've decided to be blunt, if my child decides to go on a rampage, the combined security of your school won't be able to stop him. If something alarming happens, which it won't, you will call us, and either I or his father will come and take care of it."
"Are you suggesting that we make no effort to contain him?"
"Conlan won't attack you if you don't present a threat. Your best strategy is to sit still and look down. Don't run because he will chase you, and he is very fast. Cringing and urinating on yourself will also remove you from his target list."
She blinked again.
"As I said, this is highly unlikely. Your vibrant student body will be perfectly safe. Now I have a question for you. Did the school send you here or did you take it upon yourself to conduct this interview?"
"As a vice-Dean of Students…"
Just as I thought. She came on her own. I gave her my pretty smile. Ms. Vigue went silent in mid-word.
Normal was overrated anyway.
"I'm so glad we had this chat, Ms. Vigue. Would you like some iced tea for the road?"
Three minutes later, I stood in the doorway to the main building and watched her get into her Chevy Malibu and roll down the road heading west. I took a deep breath and let it out slowly. The air smelled like sea and sun. It should've been calming, but it wasn't.
The past few days brought one minor calamity after another, starting with the floor in the utility room caving in and getting worse from there. Ms. Vigue's visit was just a rotten cherry on top of this cake of woe.
My husband, my son, and I had toured the school, and all three of us liked the teachers and what they were teaching. We had liked the administrative staff for the most part as well. The same couldn't be said about the Office of the Dean of Students. I had met three members of it so far, including Ms. Vigue, and every one of them tried my patience. I wouldn't have had a problem reassuring them if they had made the slightest effort to communicate with us on equal terms.
I needed to vent some steam in the worst way.
My son emerged from behind the wall with an unfamiliar boy in tow. Conlan was large for his age, with my dark hair and his father's gray eyes. The boy next to him was about the same size but probably a year or two older, maybe 9 or 10. Thin, dark haired, with bronze skin and brown eyes, he seemed like he wasn't sure what would happen next. A bit jumpy.
Conlan stopped in front of me. "Hi mom. This is Jason. He is Paul's nephew."
Paul Barnhill was our general contractor. Jason gave me a hesitant wave.
"Can we have some sandwiches?" Conlan asked.
When it came to making friends, my son took his cues from his father. Food first. And he knew where the fridge was and had been making his own sandwiches since he was 2 years old.
"Absolutely."
"Thank you. Jason's brother was kidnapped."
Ah. So, it wasn't about the sandwiches.
Conlan turned to Jason. "Come on."
The two of them went inside. Grendel, our mutant black poodle, trotted out from behind the wall, gave me a lick on the leg in passing, depositing a small army of foul-smelling bacteria on my thigh, and bounded after them.
Food had a particular significance to shapeshifters. They didn't share it with just anyone. Conlan brought Jason to me, made sure I saw Jason's face, made sure that I knew he was about to make him a sandwich, and then informed me that Jason had a problem. A problem I now wanted to know more about, because Jason wasn't some abstract child my son casually knew but someone he accepted and wanted to share a meal with.
"Kidnapped" could mean a lot of things to a 9-year-old boy. The first night after we moved in, a half-naked Conlan informed me that Grendel had been kidnapped by pirates. I grabbed my sword and ran to the shoreline, to find Grendel in a boat tied to a beached tree, floating 5 feet away from shore and barking his head off, while a Jolly Roger my son drew with wall primer on his black T-shirt flew overhead. But we lived in unsafe times. Real kidnappings weren't uncommon, especially if the victim was, in Ms. Vigue's words, "vibrant" enough.
The fort around me vanished, and for a painful second I was sprinting down the street, ice-cold from fear, desperately searching the ruins around me for the spark of baby Conlan's magic and wishing with every fiber of my being that I would find him before his would-be kidnappers did.
I sighed and went to look for Paul.
#
Finding Paul took a few minutes because our new house was unusually large.
I circled the third stack of lumber in the middle of the courtyard. Around me the walls of Fort Kure loomed against the sunshine, blocking the view of the beach. Local legend said that some hare-brained millionaire came to view historic Fort Fisher and was rather underwhelmed, because only a small portion of the original defense installation remained. He conceived Fort Kure as a "companion attraction" to the historic landmark, a sea stronghold on steroids that would give the tourists all the citadel thrills Fort Fisher was missing. For unknown reasons, the millionaire had bailed when the construction was 2/3 complete.
Once finished, Fort Kure would become an ultra-secure dwelling, a hybrid of a medieval castle and a modern citadel. My husband took one look at the absurdly thick stone walls, the tower, and the Atlantic spreading as far as the eye could see and fell in love. His gray eyes got this slightly deranged light, he took my hands in his, and said, "Baby, we would be crazy to not do this."
I said yes because I loved him. And because we needed to get out of Atlanta, where everyone knew who we were and what we were capable of. If we stayed there, Conlan would never experience anything resembling a normal childhood. Okay, so normal was a stretch, but at least here he would be treated as just another shapeshifter kid, not the son of a former Pack leader, a wonder-child capable of miraculous things. Bottom line, we'd needed a secure base, so we bought Fort Kure at a steep discount and proceeded to sink loads of money into it. The walls were done, so was the front gate, and the rest of the house inside was coming along. Slowly. Very slowly. If everything went on schedule, it might be habitable by fall.
I found Paul by the gift shop, which we planned to convert into a stable. He was talking to a man I didn't recognize, and he seemed upset. Paul didn't get upset. He was an optimistic guy who looked at a collapsed wall with an attitude of "I can fix it" and frequently did. The man he was talking to was about ten years older than Paul, which put him in his late forties. They had to be related – both had the same bronze skin, dark curly hair, and aquiline noses.
"… can't."
"I know," the man said.
"If I give you that money, I can't make payroll. The work's already done. I must run the payroll. I can't ask my people to work for free."
"I know," the man said again. There was a brittle finality to his voice. He had resigned himself to "no" but was too desperate to not try.
Paul dragged his hand through his hair. "Look, I've still got Dad's truck." He dug into his pocket and pulled a keyring out. "I never got around to fixing it. Take it, sell it for parts. It won't bring much, but at least it's something…"
Paul saw me. His mouth clicked shut.
"Hello," I said. "I've met Jason. He says your nephew was kidnapped."
The two men stared at me.
"This is my brother, Thomas," Paul said finally. "Someone took my nephew. We're trying to scrape enough money to try to buy him back."
"Do you know who took him?"
"Yes," Thomas said.
I waited. Paul nudged him.
"The Red Horn Nation," Thomas said finally.
"Who are they?"
"A local gang," Paul said. "They control a lot of South Wilmington. Mostly they deal in drugs, but they steal kids too."
"How big are they?"
Paul frowned. "Fifty people? Maybe more."
A nice round number. "Are they holding him for ransom?"
"No," Thomas said.
"Have you tried the cops?"
"These are dangerous people," Thomas said. "The cops won't bother them unless there is evidence. I don't have evidence."
"Then how do you know who took him?"
"There were witnesses."
And if those witnesses went to the police, bad things would happen to them. Right.
"How old is your son, and when did they take him?"
Thomas didn't answer.
"Darin is 16," Paul said. "They took him five days ago. Why is the age important?"
"Because little kids are usually sold to sexual predators or to families who want a child. Teenagers are sold to someone who will keep them confined. Transporting them is risky."
Darin was probably still in the city.
"You were gathering money, so you know where they are," I told Thomas.
He nodded. "They have a house."
"Good." I pulled the rag off my head. "Wait here. I'm going to change, and we'll go and get your son back."
"You don't understand," Thomas said. "They are…"
"Bad people. You've told me."
The Barnhill brothers looked skeptical. It was probably my winning ensemble of stained tank top and torn shorts.
My husband walked out of the north tower and jogged over to us. He was almost six feet tall, with blond hair and gray eyes, and he was built like a champion grappler in his prime. The two men instinctively stepped aside to make room for him.
"Hey."
"Hey," I told him.
"What's going on?"
"Paul's nephew has been kidnapped by a local gang. About 50 people. I'm going to get him back."
Curran grinned at me. "Will you be home in time for dinner?"
Paul and Thomas looked at him like he had lost his mind.
"Naah. Eat without me." I stretched my shoulders a bit, gave him a quick hug, and headed to our bedroom.
"Red Horn kills people," Thomas said behind my back. "Your wife…"
"Will enjoy the exercise," my husband said. "You know what they say. Happy wife, happy life."
Five minutes later I walked out wearing my work clothes: a pair of jeans loose enough to kick someone taller than me in the face, a gray T-shirt, and a pair of soft boots. I wore a utility belt on my waist and a sword sheath on my back. The handle of my sword protruded over my shoulder. I'd braided my hair, and there were two throwing knives and a bowie in the sheath on my thigh.
I gave Curran a quick hug.
"Don't forget," he said.
"Low profile. I remember." I turned to Thomas. "Let's go."
Thomas looked at his brother. Paul spread his arms and shrugged. Thomas looked at him, looked at me, and fell in step.
"Did you bring a car?"
"I rode a horse."
"Good. I like horses best." They always worked.
The world skipped a beat. Technology coughed and died, and magic flooded us in an invisible wave. The colors grew a little brighter, the sounds turned a little louder, and things came into sharper focus. For as long as the magic held, the guns would not fire, the electric bulbs would remain dark, and monsters would spawn in the darkness. I looked up at the horizon
"I still think this is a terrible idea, Mrs…"
"Don't worry," I told him. "Like Curran said, I need the exercise. And, please, call me Kate."
#
Curran
As I watched my wife ride away, I knew our life of quiet anonymity here was over. Despite her promises to the contrary, whatever she did would be loud and messy. It was time to find my son.
"What do you think she's going to do?" Paul asked.
"She will find the hornet's nest and set it on fire. When the angry hornets fly out, she'll poke them with her sword."
"You don't seem that worried," Paul said.
"I'm not. She's almost as good as she thinks she is. Don't tell her I said that. Seriously."
We watched Kate and Thomas riding away some more.
"Why Red Horn?" I asked.
"Who knows?" Paul shrugged. "Mess with the bull, get the horns? They are a vicious bunch, I can tell you that."
They'd have to be to steal a child.
"Okay. Umm," he hesitated.
"What is it?"
"My family, we don't have a lot of money…"
I waited and said nothing.
"I can give you a good deal on the renovation, maybe."
"No need. We've already agreed on a fair price for this." I waved my arm to indicate my fortress in progress. "That's settled."
"Well, is there anything we can do?"
I locked eyes with him and put a little bit of weight into my stare.
"Yes. You can go and get your family and bring them here. Paul, listen carefully. When I say family, I mean everybody. Your family. Thomas' family. Close friends, people you care about. People who could be hurt or threatened to get at you. Do you understand?"
He almost staggered back. I may have overdone it a bit, but this was important.
"Yes. I can do that."
"Good. Go and do it now. I'll keep Jason here. He can help my son and I prepare."
"For what?" he asked.
"A siege."
"A what?"
"Paul, we don't have a lot of time. Kate is going to do what she does. She's going to ask some very dangerous people some very pointed questions about who took your nephew and why. People will get hurt; some may die. Their friends will want revenge. They will look for her. And you. And your family. If you and yours are here, I can keep everybody safe. Please go and get them. Now."
He left without any more questions. Now I needed to find Conlan. We had a lot of work to do, and I needed to explain some things.
The wind was blowing in from the sea. I followed his scent to a rope tied to a beached tree on the shore. At the other end of the rope, about forty feet out, was a "boat" my son had found and repaired.
Grendel turned at my approach, saw my face, and lay down in the boat with only his eyes visible. Grendel was a smarter-than-average dog.
The boys' backs were turned to me, as they were staring out to sea and the adventures that waited there. I pulled the rope. Hard.
The boat rocketed back to land.
Conlan hit the sand before it did, landing in a crouch.
"Wow," Jason exclaimed. "Your dad is strong!"
"And quiet," Conlan said. "I didn't know you were there."
"I didn't want you to know. We can talk while you clear the lumber in front of the fort."
"Are you in trouble? I didn't want to get you in trouble." Jason turned to me. "I can go home, Mr. Lennart."
I didn't believe in lying to children.
"Nobody is in trouble, Jason. You're staying here. My wife is going to find your brother. The people who took him won't like it, and they'll come back here tonight looking to even the score."
A golden light rolled over Conlan's irises.
"Yes, we'll get to that," I told him. "But if we're having guests, even uninvited ones, we need to tidy up the place. The space in front of the wall is a mess."
"We're cleaning up for the bad people?" Jason asked.
Jason was young and had been through a lot recently, so I couldn't blame him if he was having trouble keeping up. That was okay, my son understood me just fine.
"He means that there are plenty of places for the bad people to hide behind. He wants to see them sneaking up on us."
Understanding dawned on Jason's face. "My family…"
"Will be safe behind the walls. Your father is fetching them back here. Everything will be alright. Meanwhile, you can help us get ready."