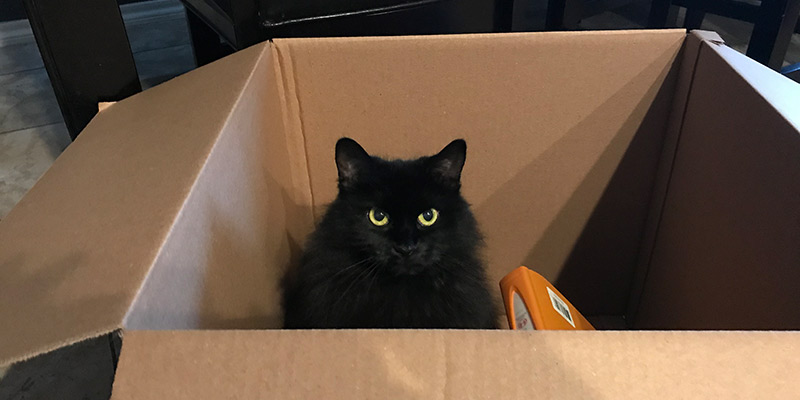 Monday, 1 star.
Woke up on time, brushed teeth, pulled hair into a ponytail, put on work out clothes. Walked out into the living room ready to head to the elliptical. Went to get my airbuds resting in a baby Yoda case by the charging station on a side table next to the couch.
Cat vomit.
Cat vomit on everything: on the charging station, on the cords, on the small art table, on the expensive pad of the watercolor paper, on the floor, on the side table, everywhere. Only the Baby Yoda miraculously escaped. The cat vomit had dried.
There is a reason I keep disposable gloves in the house. Twenty minutes of scrubbing. Twenty minutes of cleaners and Clorox wipes and a bunch of paper towels.
It's Salem. I don't what the hell is wrong with that cat. She is 16 years old and in her old age she decided to projectile vomit everywhere endlessly. She has had the blood work and the X-rays and she is as healthy as a 16 year old cat can be.
I finish cleaning. I go do my 3 miles. I come back, sweaty and gross. I decide to take a shower.
I am in the bathroom doing things one does, when I notice a dark brown thing on my thigh. It takes me 0.1 second to recognize the shape even without my glasses, and then I fling it off my leg.
A scorpion. A small one, the extra poisonous size.
It doesn't move, so it's dead.
Why was a small dead scorpion on my leg? Did it fall out of my clothes? Did I spend 30 minutes on elliptical carrying a corpse of the scorpion somewhere on my person? I doubt it because I shake out my clothes and check my shoes.
Did it fall out of the vent in the ceiling? Did a venomous arachnid actually fall out of the vent and land on me while I was on the toilet?
I am done.
I lived most of my adult life in the South. I have no problem with giant flying cockroaches. I've dealt with wasps, snakes, centipedes, and fire ants. You know where my line is? My line is at the damn scorpions falling on me from the damn ceiling. That's where it is.
Look, Texas, I like your low taxes, but that is the only thing I like about you. I am out. We are moving. I am done. I am going to find a house somewhere, preferably on a lake or at least somewhere where things don't burn to brown straw starting in May. Somewhere without scorpions. That's it.