A month ago we decided to renovate the house. We needed to resurface 25 years old pool, which was leaking, we needed to replace an upstairs rail, which was not to code, and we needed to put texture and new paint on the walls.
Our house started out as a builder house, constructed as the builder's personal residence, and the first owners made an interesting decision to not texture the sheetrock. You could see nail holes under the paint, the seams, and so on. We hired a general contractor who came highly recommended. He subcontracted the painting to a respected painting firm with excellent reviews. We walked through the house with the painting company owner. We agreed: the walls needed to be floated, textured with a light orange peel, primed and painted and neutral color that would be nice to live with and would show well when we put the house on the market. It would be expensive, but worth it.
We were told to be out of the house for two weeks so the texture could be applied.
We couldn't find any rentals on short notice, so we decided to combine being out of the house with a vacation. We couldn't find any vacation rentals because everything was booked. We looked through three different rental sites and about 60 properties and got the only place that was available by some miracle in our time slot, even though it was expensive. We needed a vacation badly, so hey, serendipity, right?
We spent 2 weeks packing. We have shelves filled with Gordon's action figures, our comics, etc. Everything had to be removed and packed so shelves could be moved. Every horizontal surface was cleared. It was like moving, except we were coming back to the same house. We dismantled the craft room, packed the office, etc. Everything is in boxes. My yarn is in garbage bags.
We boarded 4 dogs and 3 cats.
We went on vacation. We were assured that the house will be clean and habitable when we came back. It should've been a 12 hour drive. It was a 15 hour drive, because Orange, Texas. You see, there is roadwork on I-10 by Orange, Texas, and the 3 lanes of the interstate and 2 lanes of the frontage road were funneled into one lane. Two hours and change to clear the funnel.
Midway through vacation – which was lovely and relaxing and I don't regret it at all – we got pictures of the room taken from far away. Everything looked good.
Friday we are driving home, hoping to not be stuck by Orange this time. Kid 1 calls and says, "Hey guys, the house is really bad."
We hang up, and I am like, how bad could this be? We have pretty pictures.
We made it in 13 hours this time, because we hit Houston at 4:30 pm on a Friday. We arrive around 8:30pm. We haven't eaten because we wanted to make good time. We walk into the house.
It is the worst paint job I have ever seen done by a professional crew. I can't even explain it. You have to be here. Not only that, but the house is a wreck. There is a thick layer of construction dust on the floor, the counters, and walls. The TVs are unplugged and mounted back, so everything is disconnected and kind of impossible to reconnect without unmounting. We found some gross empty water bottles with some kind of black slime in it. Ugh.
I took these pictures this morning, so this paint is dry.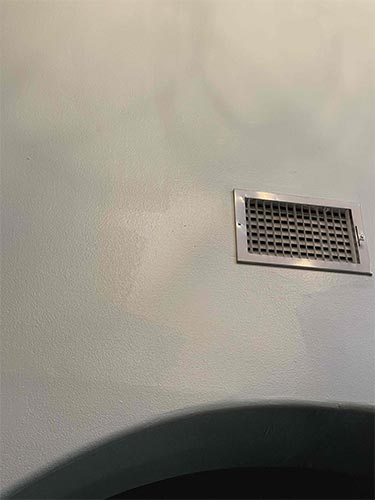 This next one is a particularly telling image. Floating walls requires a couple of coats of "mud," which is a compound that bonds to the wall. It's smoothed, and then texture is applied, followed by primer and then paint.
Single coat of paint.
They did try to patch things, and they made it so much worse. The house looks worse. It is unsellable as is.
I'm pretty good with words, but I don't have the right ones to convey the feeling of driving for 13 hours, walking into the house, hungry and tired, and expecting it to be habitable… and it's not. The walls are bad, but the dust and trash everywhere is worse. We couldn't even sit down. The floor was basically white. So we cleaned, vacuumed, and mopped because you can't breathe that powder in. It's not good for human lungs.
We've been cleaning non-stop since we arrived. If we are awake, we are cleaning. I took a break to drink my afternoon cup of tea and post this. I am not handling this well. I screamed on Saturday at some point. Just a kind of guttural wordless scream. It was that or explode. I finally put together my computer set up at 10:00 pm last night because we had purged the fridge before leaving and I needed to get the necessities delivered.
We also don't have the upstairs rail, so the upstairs is blocked off. It is unsafe. The rail is just a post-pandemic delay thing, so I am not mad about that, but I can't clean the staircase or the upstairs floor. I can't replace the air filter. Kid 1 moved into the tiny garage apartment, because her bedroom and computer room are inaccessible. Her boyfriend rescued her computer – which is covered in dust and stained with paint, wtf – because we have a launch on the secret project in August and she has to work on editing it.
This color is forgiving in photos so you look at the pic above, and with the right lighting and distance, it seems like it looks good. Trust me, it doesn't.
Our general contractor was shocked. Apparently he checked this on Monday and told them it was not up to par, so they "fixed" it. He wants to make it right at no cost to us.
The problem is, we can't take off for another 2 weeks. We have to work. We have dogs and cats. At this point, I'm giving up on texture. If they just sand the walls and make them smooth enough, I would settle for that. I just… I am tired and upset. At some point, when asked what could be done to fix this, Gordon said that we could set the house on fire. He is obviously being dramatic, but every single wall is fucked up. Every one.
I don't know how this is going to get fixed. We had to be out of the house. That was the whole point of this.
I've got to go clean some more. There is paint on one of the TVs, so I need to go and see if I can scrub it off without destroying it. The dogs and cats are coming back today and it should be safe. Most of the powder is gone, and the stairs are blocked off with a sturdy gate.
I have to work on Monday. Kid 1 cleaned our office, which was so nice of her, I almost cried. On Friday around 10:00 pm, I called Kid 2. She's been checking on us throughout the drive, and we made arrangement to have a fun lunch on Saturday. I told her that I loved her but the lunch was not happening and I showed her some of the walls and the floor. Thirty minutes later, there is a knock on the door. Kid 2 dropped everything and drove in the dark "to clean and help."
Not all things went badly. The pool is great. I have high hopes for the rail. The renovation budget is spent, so whatever fix happens will be it. Tomorrow the maid service is coming, and we have removed enough powder so it should be safe for them to clean.
Hopefully by Monday, I will stop being a burning ball of rage. Not likely, but anything is possible.