And now for something completely different.
Yesterday, Kid 1 went outside to check her peppers – more on that later – and came back inside.
"Something is screaming in the jasmine bush."
We all know that there are cardinals nesting in that giant bush, so Gordon and I run outside. I stand by the bush and don't see anything.
Screeaaaam.
It's not a bird, it's not a cat, or any other mammalian critter. This sounds eerie and weird as hell.
Kid 1 is also weirded out. "What is that?"
Me: I don't know.
Screeaaaam.
Some creature is clearly in distress and it sounds right in front of me. I lean in to look.
A skinny green snake about a foot and a half is wrapped around the branch. It's biting a green frog on its butt. The frog is not huge but its body is about 5 times what that snake can swallow. It's like trying to shove a lime into a drinking straw. Even if the snake unhinged its jaws all the way, this is anatomically impossible.
The snake is not letting go.
Screeaaaam.
Gordon says, "Where are those forceps?"
The forceps are found and brought to him. He plucks the snake with the frog attached out of the bush, convinces the snake to let go, the frog dashes off, and the snake predictably decides to coil around the forceps and my husband's hand, at which point it is tossed into the underbrush.
I did not take pictures during the ordeal because the matter was urgent, but we have since determined that our guest was probably a rough green snake common to our area of Texas.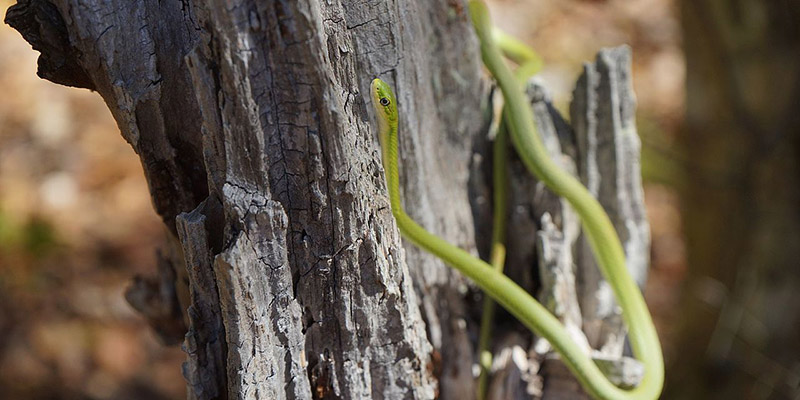 The internet tells us that their diet consists of crickets, moths, grasshoppers, and other small thingies. A large cricket was probably that guy's top prey size. What he was going to do with that frog nobody knows.
The snake matter handled, we check the peppers. Kid 1 had planted a wide variety and I was most excited about Sweet Heat pepper, which our local Lowe's billed as a slightly spicy bell pepper. I used to eat very spicy food – at one point in my life I would eat Sichuan peppers straight – but I am older now and I try to take it easy. My mouth still likes the heat, but the rest of me not so much.
This is what Sweet Heat peppers look like. We are sure what we are because we planted their little tag next to them.
We tried a green one before and it tasted like grass. Peppers become hotter and their flavor intensifies as they ripen. One of the peppers turned red. So I, confident that I was in safe territory, decided to try it. I plucked it off the plant and bit a small piece.
Then I went directly inside, put the pepper on the island, got milk out of the fridge and then swished in my mouth while my eyes watered. Sweet heat, my ass. This tasted like an off-the-scale habanero. Like burn. Actual burn. Sweet heat peppers are not supposed to taste that way.
Two planters over, Kid 1 raised a ghost pepper, which is hot as hell.
Kid 1, who has my spicy level tolerance, and hers might actually be better than mine, tasted one of these ghost peppers before and described the experience as "instant regret."
My question to you is, could cross-pollination between the two pepper plants have resulted in the polluting of the sweet bell pepper?
I have seen something similar happen with tomatoes, but only in second generation. Years ago my grandmother had acquired seed for the giant pink tomato. Those things were truly massive, huge tomatoes, sweet and yummy. Everyone liked them. She planted them next to yellow tomatoes, and after a couple of years of collecting and planting the seed we ended up with a hybrid plant which produced meh tomatoes.
Could cross-pollination affect heat level, or did Lowe's con us into buying habaneros?