I decided to take a stress-relieving bath in our new bathtub. I've got my bath bomb, my bubble bath stuff, and my book. I've informed the family that I will be gone for about an hour. I've filled my tub and climbed into it.
Here I am in the tub, all set to relax. However, I have neglected to lock the bedroom door. I should have checked, but I just pushed it closed and apparently not all the way.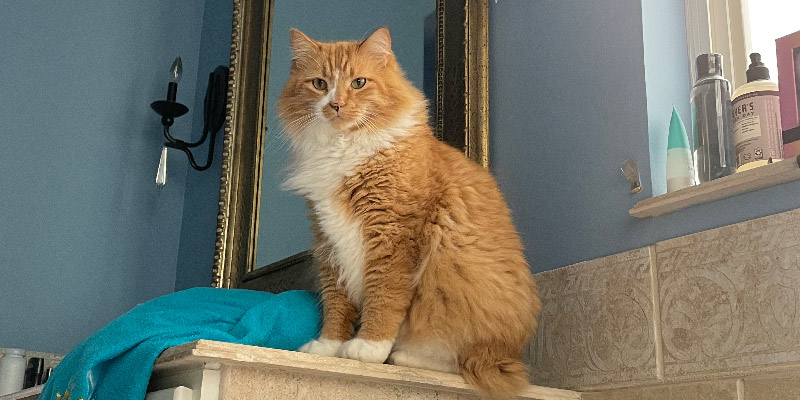 Look at the judgement in those eyes.
So I realize that my amazing bubble tub has whipped the foaming bubble bath into froth. I have about two feet of bubble foam hiding me and my bath. Tuna has no idea there is water under bubbles. If she jumps any closer and accidentally falls into the bathtub, I will have no skin left.
Me: Honey!
Honey doesn't answer. He probably can't hear me.
Me: Tuna, stay right there on the sink.
Charles Tubbins, otherwise known as Charlie and Tubby: I am not sure what's going on, so I am going to sit here by the bath and whine.
Tubby: Whine, whine.
Tuna: Walk around the bath. Walk, walk.
Tubby: Whine, whine.
Me: I just want to take a damn bath. Wait, I have a phone.
Texting to family group chat: Hey, can someone please help me and come get the animals before they crawl into the tub?
Crickets.
When the three of them need wife or mom, I am expected to reply instantly. I am on call 24/7. I have gotten texts in the middle of the night before asking if I still loved them and what time we should do the family dinner next day. But when I need help, all three of them spontaneously forgot phones exist.
Me, texting: Help!
Crickets.
Tubby: Whine, whine, whine…
Tuna: Hop!
Me, texting: Situation critical! Help!
Crickets.
Me, in a flash of brilliance, dialing Home.
Spam blocking robot: This phone screens calls. Please leave your name after the tone, followed by the pound key.
Me: Ilona.
All three phones come on at once, announcing that there is a call from Ilona.
Gordon picks up the phone: Yes?
Me: HELP!
And that's the story of me trying to relax.