Over the last decade, my yarn stash has grown to gargantuan proportions. I could run a store out of my craft room, except that my craft room is a horrible mess. Was a horrible mess.
It was kind of sad because being in my craft room normally makes me happy. But over the past year it turned into a catch all junk room, and walking into it just made me depressed.
About a week ago, I bit the bullet, rolled up my metaphorical sleeves – because long sleeves are entirely optional in Texas – and started cleaning. I cleaned the storage space off the laundry and moved Kid 1's soap and candle making supplies there. I boxed my sewing supplies and moved them to the storage too.
I threw away the blanket and other things, like the cardboard sewing mat, which had been ruined by Batty, our semi-feral cat, during her brief stay in the room while her nose healed. It was the only place we could've sequestered her from the other cats and she kept escaping.
I sorted my art supplies and bought a tall plastic dresser into which I would stuff my paint and knitting needles once it arrived.
I spread plastic on our new garage floor, and dumped all of my yarn in a massive pile onto it. I emptied the shelves, the bins, everything.
I swept and mopped the awful concrete floor. The next day my husband kind of quietly disappeared in the morning. After about 45 minutes, I went looking for him and found him in the craft room. He had spare rubber floor tiles left over from when we made our home gym and he laid a new floor in the craft room for me. He didn't say anything about it. I just walked in and there was a new floor. It's soft. 🙂
Once everything was out, it was time to deal with the yarn pile. I sorted through it for three days. The weather was nice and the garage faces a well-walked street. Some masked neighbors stopped by because the site of me crawling around in the garage around a mountain of yarn was very amusing. I gave away two 25 gallon plastic containers worth of yarn. One of our neighbors knits blankets for feral cats, which is all kinds of neat.
Also a Texas millionaire stopped by to welcome us to the neighborhood. He lives in a house down the street. He was riding his fancy motorcycle down the street, pulled a U turn, and drove into our driveway, mostly to talk to Gordon who had come outside in solidarity and was sitting in the sun, reading his Kindle.
They talked about the bike a bit, and about the previous owners, and how we have lived here for three years now and he is both shocked that much time had passed and sorry that he hasn't come by sooner. At some point, he told us that some neighbors were moving to a 20 acre ranch and scoffed a bit, "That's a play ranch. A ranch is about 500-600 acres. I had one. Best years of my life." You get these a lot in Texas. They don't wear expensive clothes, but you can usually tell there is money there by what they drive.
It became clear that the amount of yarn I have greatly exceeds our storage. I blame my therapist. No, seriously. A few years ago, I had the mother of all burnouts and I went to therapy. I had an absolutely amazing therapist, who tried very hard to figure out what I actually liked to do for fun. And it was determined that I like buying yarn, but I also felt guilty, because most of the yarn I bought hasn't been used. She said, "Does the yarn make you happy?" I said that yes, it did. She said, "Buy the yarn and stop worrying about it." See? I'm blameless.
Okay, I sounded like Ascanio there. But still, blameless.
The right answer to the overabundance of yarn is, of course, to buy less yarn. When I told that to Gordon, he gave me this man look reserved for when wives say something that husbands believe to be absurd, and told me that the answer to this crisis is more storage.
I bought a really neat plastic cube set and built another storage unit out of it. My plan is to sort the yarn even further. Right now I have it separated by weight and somewhat by fiber. (That means I set cotton aside, if you're wondering.) I could probably separate it by color, too, since I have a lot of sock yarn.
While sorting through all of the yarn, I found some half-finished projects. So here is my hall of shame. Behold all the things I worked on and didn't complete.
2/3 Of a Sweater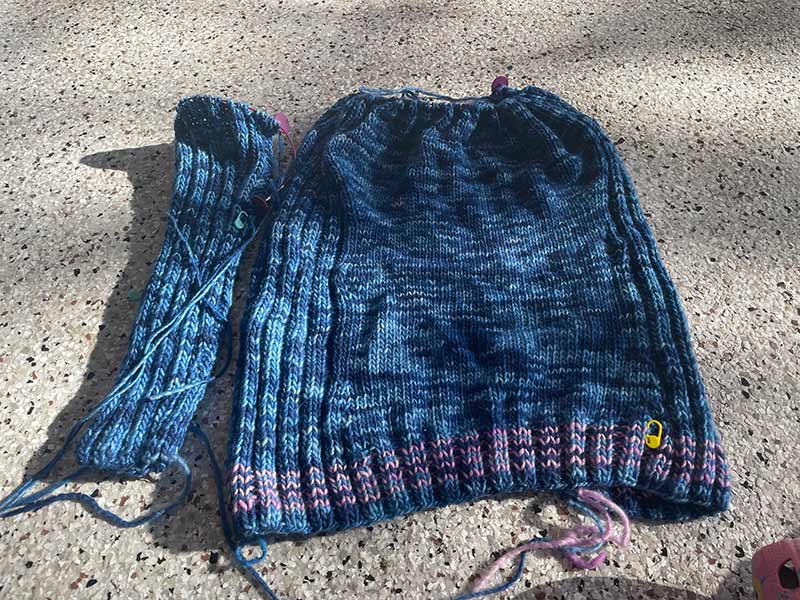 A sweater and a sleeve. Worsted wool. Probably made for one of the children. I don't remember anything about it. I don't know how many stitches there were for the other sleeve or how to join the sleeves to the body. I don't know what pattern this is. I do have the yarn, however. It's rolled into a ball. Without a label. Mystery yarn.
Probability of finishing: Maybe. 50%. I mean, it is 2/3 of a sweater, so that was a lot of work. I just don't know how I would finish it since there is nothing in my pattern library that remotely resembles this. Did I free-hand it?
1/8 of a Shawlette
I do know what this is. This is Hitchhiker by by Martina Behm. Knitted in Silver Shiny from Destination Yarn. The pictures don't show it well, but it's very shiny. I remember why I stopped this. While the yarn is gorgeous, the pattern is very… well, it's just miles of garter stitch.
Probability of finishing it: Meh. 30%?
1/3 of Crochet Shawl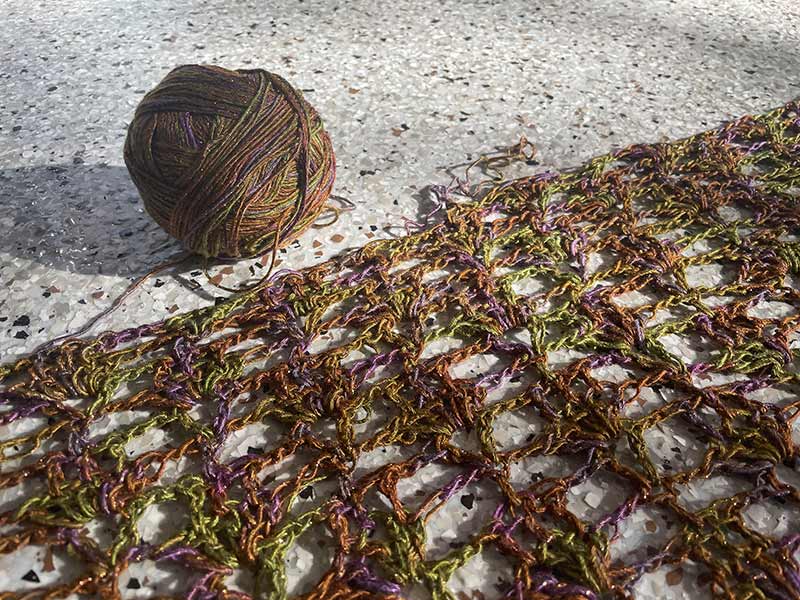 This is Blue Heron Rayon Metallic yarn. It's very sparkly, which you can't see in the pictures, and the colors are gorgeous, but there is zero elasticity. It's like cotton. This can be put to a really good use when mixed with wool.
This is a shawl I knitted in 2017. I blocked it once to open the wool lace sections, and I haven't had to block it since, because the garter sections of Blue Heron are holding it open.
I am not sure what is happening with the partial green-brown shawl above. It's crocheted lace at the appropriate gauge for the yarn weight but the lace holes are huge. This is not a functional garment. This is more of a decorative garment and I am not sure if it is pretty enough to justify that label. I clearly meant it as a summer shawl, which I will wear in Texas never, because it's 50 degrees, 50 degrees, and then 102. There is no in between.
Probability of finishing: Meh. 30%.
1/4 of a Shawl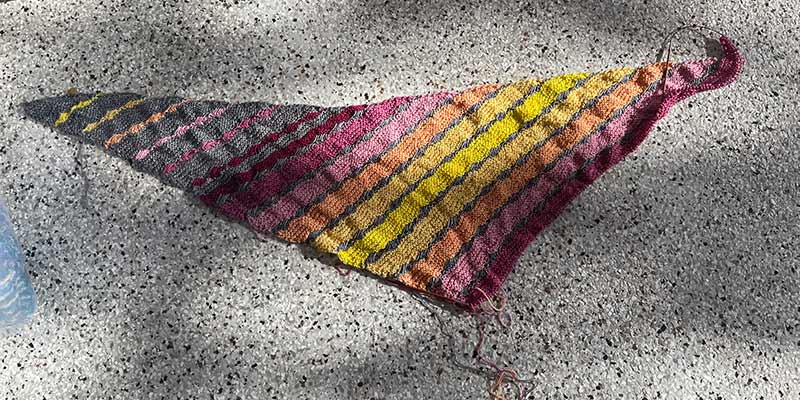 This is The Joker and The Thief by Melanie Berg. And this was a gift from Laura, who decided that she would never make it herself and sent it to me with one request, "Make it and wear it." I am the worst person. The worst.
This pattern had ends. And ends. And ends. The grey sections were painfully awkward and weaving in ends drove me nuts. I must've been having a hard time when I tried to knit this, because I remember thinking, "This is too hard and I just can't do it." Looking at it now, what's so hard about it? It's garter stitch, mostly.
Probability of finishing: Probably. 75%. Guilt factor is high.
3/4 of a Blue Shawl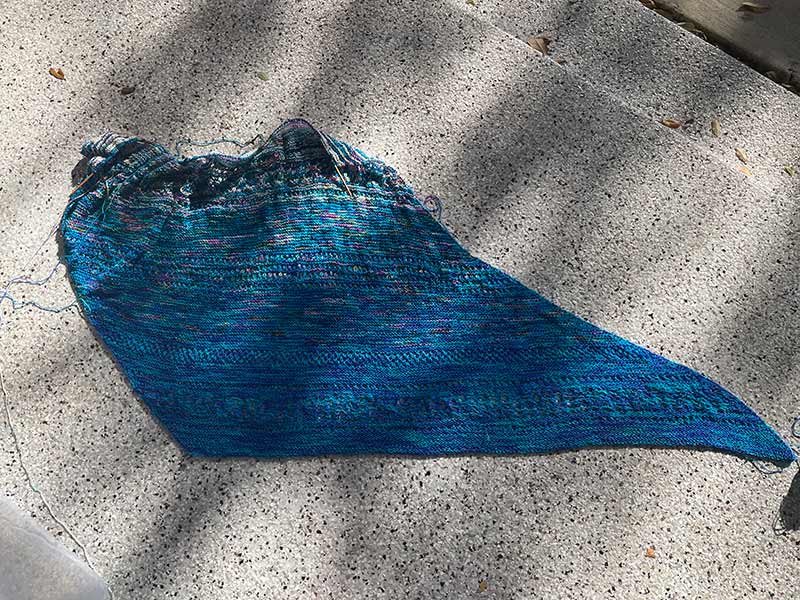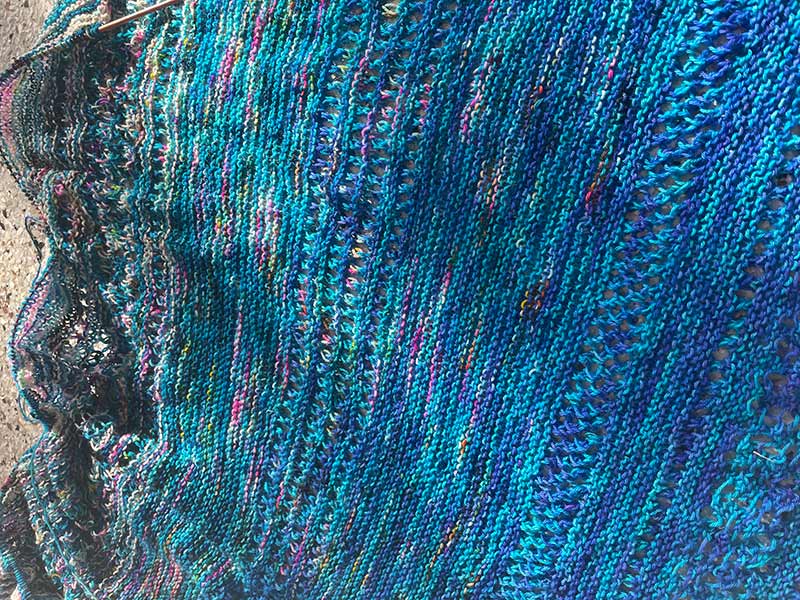 Okay, so you can't tell from the pictures, but this thing is massive. It has over 1,000 yards of sock weight yarn in it. Looks like 2 full skeins and I have about 2/3 of a skein left. Judging by the speckle on the final yarn, probably Hedgehog Fibers.
I remember this one. It was during the phase when everyone on Ravelry was doing these enormous fade shawls. I decided to free-hand one because I wanted something mindless to knit. I am going to pat myself on the back and say that the quality of fade on this one is quite good. It is quite pretty and will be prettier once I block all the weird stitches into uniform fabric. This was stress knitting and it shows in a couple of places.
Probability of finishing: Probably. 75%.
Once I am done with the craft room, I will take pictures. Or maybe not. Depending on how guilty I feel about the size of my stash. But the craft room is now 95% done and it makes me very happy. And while I didn't finish some of these things, at least I now know they exist and where they can be found. 🙂 And knowing is half of the battle.
At least that's what I tell myself.