Hi BDH, Mod R here with a fun announcement for you today. Jeaniene Frost and Ilona Andrews are celebrating books – and you know you want to be there for this BFF chat!
Jeaniene's new book, BOTH FEET IN THE GRAVE, will be released next week, on April 18. Ilona and Gordon are set to finish the manuscript for MAGIC CLAIMS, the new installment in the Kate Daniels, Wilmington Years series. Perfect timing for us to get all the insider info from both of them on everything to do with writing alternate POVs, male characters insights, returning to beloved series, sexy (or not) vampires, badass heroines and more!
If you've ever attended a Jeaniene & Ilona and Gordon event before, you know the rollercoaster you're in for. If not, I can't quite describe it, but I can advise you to keep your seatbelt on for the entire ride hehehe. They are BFFs for a reason! The chat will be moderated by the lovely Meena Jain from Ashland Library, your host for the event- but if you have questions for the authors, you can comment them below or email me at modr@ilona-andrews.com.
Registration
Ashland Library asks you to please register for this event, as spaces are limited. The virtual chat will be held on Saturday, April 22nd at 4 pm ET. Here is a website that lets you figure out Eastern Time as it relates to your time zone.
If you cannot watch live, but would still like to catch up with the authors, this program will be recorded and available on the Ashland Library's YouTube Channel. If you would like to receive the video link directly, please fill out this form and Ashland will email you as soon as it is available to watch.
The Books
If you thought you learned more about the dangerous and sexy alpha vampire, Bones, in the USA Today bestselling scorcher, THE OTHER HALF OF THE GRAVE, you haven't seen anything yet…
BOTH FEET IN THE GRAVE is the new installment in the bestselling Night Huntress series. This is Bones, in his own words…
Two hundred years of bounty hunting made Bones the best at what he does, yet it's still taken him four long years to find Cat, the half vampire now known as the "Red Reaper." But has time hardened Bones too much to love again? Or will his passion for Cat burn through every obstacle–alive, undead, or otherwise–between them?
"Living everything through Bones's eyes was amazing!"

Tynga's Reviews.
---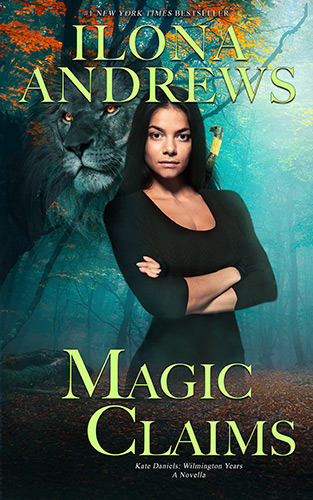 If you're here, you probably know all there is to know about the return to the world of Kate Daniels and the Wilmington years series. But did you read the most recent news and rejoice? The latest novella in the series, Magic Claims, is not a novella anymore: much to everyone's delight and Jeaniene's all-knowing giggles, it is now officially a short novel!
HORDE FLOLLOP!
Kate and Curran have just settled into their new home and their 'low profile,' when a local businessman approaches them with an offer they can't refuse. A mysterious evil has spawned in the nearby forest and is holding a defenseless town hostage. The 'due date' is rapidly approaching.

---
Signed Books
Aesop Fables, an independent brick and mortar bookstore, is the partner for this event.
If you would like a signed book by one of the authors, you can order them through the bookstore event page. Personalization is not possible unfortunately, as the bookplates are sent ahead of time, but here is everyone's chance to get signed copies for their collections! And support an independent bookstore in the process, which is a win-win. For any inquires linked to orders, please contact Aesop's Fable directly.
I'll be in the comments as usual in case I've forgotten anything.