A day before Gordon and I resolved our issues with Ruby Fever, we had a fight. It wasn't much of a fight – we rarely go all out after 26 years of marriage – but things were said, and the dissatisfaction with the state of the book, writing process, and publication schedules was expressed on both sides. In the middle of this Kid 2 called. She quickly determined that her father was irritated and asked me what happened.
A couple of hours later, we got a surprise visit from Kid 2, who brought us a lemon tree and carefully checked to make sure we were not divorcing. Parental divorce is very high on her lists of Things That Should Not Happen.
So we are now the proud owners of a Meyer Lemon tree.
Things I know about lemon trees: zip.
I'm reasonably sure that this tree will have to live inside for several months considering our last winter. I bought a moisture monitor to make sure I don't overwater it.
It may need a grow light, because our house was built with Texas heat in mind. Most of it gets little light and is a bit cave-like. The study in particular is really dark, especially on an overcast day. Right now the tree is in the living room which eventually will have to be changed since blasts of cooler air when the doors are opened for the dogs won't do it any good.
So, there might be a grow light that I need to buy. But my most pressing issue right now is the pot. What kind of pot? What size of a pot? Why are the pots so expensive? Do I need to get a drainable pot and how can I make that aesthetically pleasing?
All good questions.
I was going to show you my African violets, but instead imported 2 pics of Oliver by accident.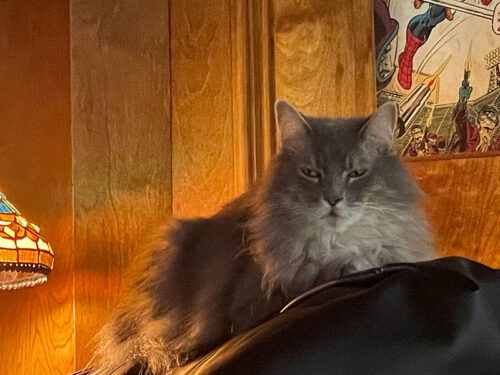 King of all he surveys.
Violets, right.
The orchids have been trying to bloom but it is taking them forever and I am suspicious that they are dying. Orchids do suicide blooms sometimes, because they think demise is near. This one particular one has been trying to bloom for weeks now. Oh well, we'll see what happens.