Hi everyone, Mod R here.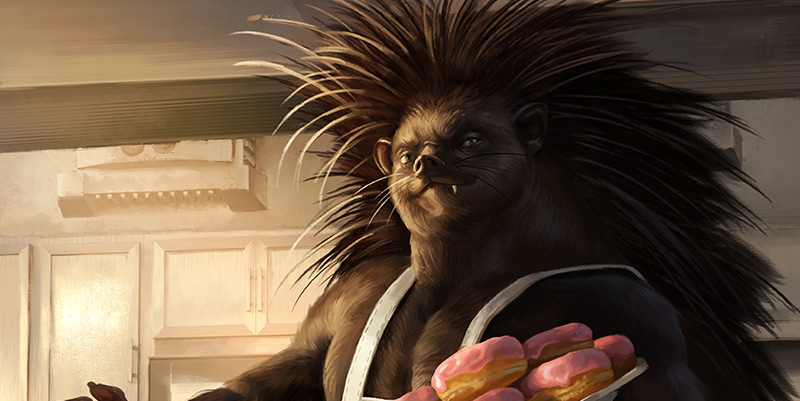 Based on how many people have asked for a House Andrews cookbook in the comments in the past few years, I know I'm not the only one who reads with her tummy as well as her eyes.
Something you need to know about me is that I am a maniac (maniac!) on the floor of Orro's kitchen- and all other IA food scenes. Immersive books and greed mix very, very well and a Horde, as everyone knows, marches on their stomachs.
I've made Edge Hamburgers, Orro's Eggs 3 Ways, I've ordered Old Bay seasoning from the US to cook Kate and Julie's Low Country Boil and I've certainly baked a Pithivier or two (or seven). I bookmarked Nevada's treasure box dessert for when I'll visit Las Vegas and I had lunch at the Ca' Sagredo hotel in Venice when I visited my in-laws in Italy just because I could. Catalina's fajita dinner with mango pico de gallo hits the spot like no other.
I will not mention the amount of carpaccio I've ordered since Burn for Me has been released. Although I have yet to find it in an Asian fusion restaurant so I am still on lookout for that twist.
If I can't order it, I have to make it, and I know no rest until I can recreate the scene exactly. My next goal is to make a grazing board based on the Tachi food mandala in Sweep of the Blade. And yes, I know I could call it a charcuterie board because the definition has expanded to include more than just cured meats and pates, but I'm staying a purist.
She cut the bread into precise half-inch cubes, placed five of them together onto the plate, one in the center and four in the corners so they formed a square. She picked up the honey and slowly dripped a few drops onto each cube, until the bread soaked up the amber liquid.
The tachi at the edges of the table leaned in slightly.Maud plucked the blue kora fruit from the bowl, peeled the thin skin and carefully cut the fruit into even round slices. She managed eight slices, seven perfectly even and one slightly thicker. She placed the seven slices around the cubes. The eighth was a hair too thick. She pondered it.
The tachi pondered it with her.
Better safe than sorry. She reached for another kora.
The tachi to her left emitted an audible sigh of relief and then crunched his mouth shut, embarrassed.
After the kora, she cut the red pear, then the thick yellow stalks of sweet grass, slowly building a mandala pattern on her plate. The kih berries followed, perfect little globes of deep orange. She carefully arranged the berries and took one last look at the plate."

Andrews, Ilona. Sweep of the Blade, Innkeeper Chronicles 4. NYLA, 2019. Kindle Edition, page 85
I'm thinking potato sourdough for the bread, homemade hot honey infused with chilli and vinegar, and maybe physalis can be the kih berries- I always thought they looked a bit alien. I am a bit stumped because my vampire supplier is fresh out of kora fruit- does anyone know a blueish fruit or veg that could take its place? Roasted purple ube (purple yam) is as far as I've got.
Have you ever needed to eat something just because you read about it?