This is your scheduled reminder that the Ilona Andrews Special Edition Box goes live on preorder from Arcane Society tomorrow, November 15:
For Arcane Society members: first access, at 1 pm Pacific Standard Time
For public: open access at 4 pm Pacific Standard Time . Clarifying here that you do NOT need to be an Arcane Society member to buy it, it's open to everyone.
If you click on it now, it will prompt you for a passcode. This is because it is not live. I know some people were confused- we have to w*it until tomorrow. I know, I know.
The Ilona Andrews Special Box will contain exclusive hardcover editions of both Iron and Magic and Blood Heir– here is the first look at Iron and Magic and here is the sneak peak of Blood Heir.
The price for the box is $70. The boxes are likely to ship in March 2024. There are limited signed copies and unsigned copies available.
Arcane Society editions do not get reprinted. Once the stock is gone, that's it. The signed copies usually sell out on the day of release (tomorrow), between members and public access.
If you need to ask questions, make shipping arrangements etc: their contact email is help@arcanesociety.com.
Luisa Preissler designed both dustjackets, and there will be foil design on the hardcover, interior art and signing sheet art if you buy the autographed copies.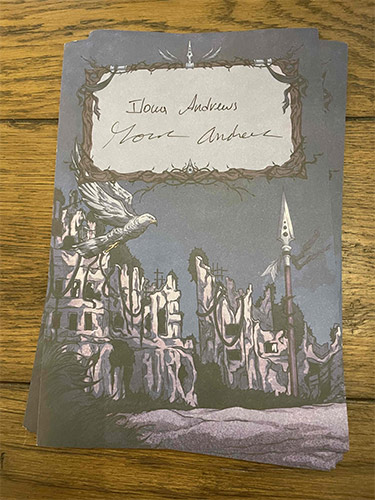 Arcane Society are a book subscription service, specializing in fantasy and paranormal romance. You do not need to become a member to buy their Special Boxes (like this one), but you can if you want to have access to their monthly ones. You can find out more about it on their About and FAQ pages. If you want to check out previous Special Boxes from them to look at their products and see what you're signing up for, YouTube has you covered (just click).
To figure out Pacific Standard Time where you are, I like this website.
Good luck!