Hi everyone, Mod R here!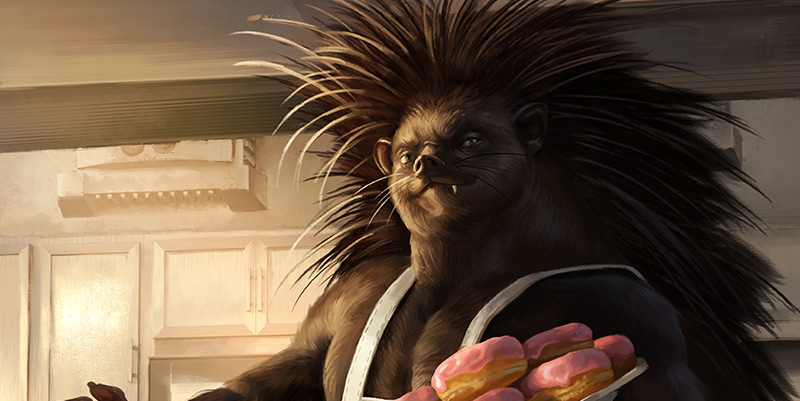 Before I get to anything else, there have been several questions in the comments to Augustine's FrInnterview about George getting married and whether you missed anything if you don't know about it. I'm happy to report that if you want the dish on the wedding, who, when and what it took to make an honest man out of our favorite Arbitrator, it's all coming in Sweep of the Heart!
This is the 4th Ilona Andrews book release I've been privileged to witness from backstage, as it were- and whilst it's hard to pick favorites, I have to admit this one is just (sweeping) closest to my heart!
The first one was Blood Heir. I was with you all in the audience as a weekly serial reader, having no idea that I will be behind the curtain for the release. It was already a finished, shiny book though and House Andrews were in promo period when I became Mod R. I learned a lot about the Horde during a release and the alternating waves of devouring and fluffiness that happen, so no complaints here.
I've seen Fated Blades since it was a baby draft, but Fated Blades was something that basically fell out of Ilona and Gordon's brains. It was "We have an idea!" one day and "Here's the pretty much final version" 3 weeks later, so there wasn't much time to experience the process. Ramona slashed, Matias dashed, and it's all a whirlwind of secare fun in my memory hehe.
Ruby Fever is an amazing book that I love, but the less said about the process and how everything that could go badly went badly, the better. In fact, no one was even aware a few of the things that happened *could* happen (and I mean here experienced industry professionals, let alone wide-eyed me). At one point, I sent "I'm sorry the book is cursed" flowers to House Andrews for all they were going through because there were just no other words left. Fortunately, readers overwhelmingly loved it, and that's what's important. A difficult labour produced a prodigy baby!
But I was there with Sweep of the Heart almost every step of the way. From Ilona and Gordon kindly sharing the concept with me, to the Christmas Eve debut on the blog, seeing the draft chapters first (it's ok, you can hate me hehe), the Friday BDH get-togethers in the comment section, and sending House Andrews weekly summaries of your questions and reactions.
I was privy to how much your reader feedback influenced the first draft (more on the process of writing a serial here). How things like length of the story, characters and worldbuild all grew like a living, breathing organism, yet throughout it all the initial concept never changed. Creative liberty standing up to criticism and negativity, and fair editor feedback being incorporated. I saw the creation of the covers by the talented Doris Mantair (yes, there were multiple covers, and one day you'll learn why ::wink wink::) and all the stages of the characters taking shape with the amazing interior illustrations by Isabeau. I've also been privileged to read the polished final manuscript and have major things (major!) revealed and more tantalising questions created…
It's simply like witnessing a masterclass and a love letter written for the BDH- and I think the Horde felt it because the FrInnDay comment sections were a weekly community party! All efforts went in from House Andrews to preserve as much of the serialised goodies as possible, which I hope will give everyone as much delight as they gave me. And if you haven't read along, I hope they will at least amuse you.
All I know is that this book feels special, and I am so unspeakably grateful to have the chance to be around all of you.
EXTRA! EXTRA! Read all about it!
I've just heard news that House Andrews are trialling a pilot program that allows to have Print On Demand books available for preorder. We don't fully know what this will do, the books may even get shipped before release? Permission to freak out hehe.
Here are the links for Sweep of the Heart paperback and audio preorder:
For ebook orders and other retailers, head to the main Sweep of the Heart page (with excerpt!).