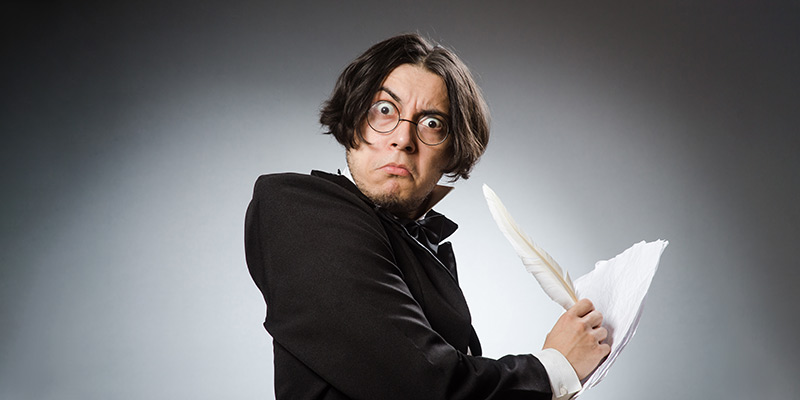 Today is the heavy topic Monday, it seems.
Why do certain genres deal with dark themes? "Perhaps HA can answer why themes of child abuse and rape comes up in certain genres. These themes are a bit stomach turning and I am curious to know what would propel an author to explore that."
Art is a reflection of life. Rape exists. Child abuse, sexual abuse, murder, self harm, suicide, human trafficking, all those things may not be a part of our lives right now but they are a part of someone's life.
If we pretend they don't exist, we will end up with a version of Soviet media, which simply erased anything that they found problematic. Serial killers, prostitution, suicide, drug abuse, domestic violence, those things didn't exist in the Utopian USSR. Neither did gay or transpeople, because communists are very conservative and they like to put everyone into a box. If you don't fit into a box, if you stand out in any way – maybe you're not comfortable with your gender, maybe you are unusually smart or perceptive, maybe you are neurodivergent – they will hammer you until they break you. And then they will put your broken pieces into the box.
This kind of erasure has real consequences. Chicatilo, the Rostov Ripper and one of the most prolific serial killers in the world, operated in my home city when I was a child. Part of the reason why it took so long to catch him stemmed from the officials' refusal to admit that serial killers could exist in Russia. They were a Western perversion. The field of psychiatry in Russia may have caught up to US by now but when I was a teenager, it was considered to be a bullshit science without any real benefit or purpose. People in USSR did not have mental problems. How many people needlessly suffered and how many mental illnesses went untreated? We will never know.
Darker themes have their place. Sometimes their portrayal in fiction is simplistic and crude, sometimes it's complex and nuanced, but they absolutely need to be in there. People are complicated and they have different needs. A diversity of fiction and themes is good because it allows us to pick and choose who we let into our heads.
Fortunately for all of us, entertainment isn't compulsory. The scroll past it solution applies. Just as we can simply scroll past a post that doesn't pique our interest, we can skip a book that might be too dark for where we are in life at this particular moment. Taking care of one's mental health and emotional wellbeing is very important.
Where do you stand on trigger warnings or content warnings as part of the description of a book- in the author's note, or even somewhere on the cover, like in the blurb? Can an author make them into selling points? Do they always spoil the plot? I noticed you said you would include them for the blog serial for Maggie, what about the published book?
Oy. This is a dialogue that's probably above my pay grade. Let's get some articles out there:
I Was Wrong About Trigger Warnings
Why Usage of Trigger Warnings Persist
As you can see, it's complicated. I don't know enough about this issue to be any kind of authority on it. People who are experts with a lot more relevant education and experience are hotly debating it right now, and I'm going to reserve my judgement until there is a consensus.
I will say that in my experience, trigger warnings on fiction most often do not actively represent the content of the books. If I tell you that Clean Sweep is a book about dog murder, will you read it? Probably not. Even though Brutus' demise happens off screen and is the tiniest part of the narrative, I would be lying if I said there was no dog murder in that book. So I do not support very detailed trigger warnings.
However, I do support truth in advertising and I support providing enough information for the parents to be able to make an informed choice about the content their children are exposed to. So if part of Maggie will be serialized, it will come with R warning for violence, adult themes, and sexual content. Innkeeper has stayed pretty solidly PG 13 primarily because kids are reading it.
Other authors have shared in the past that whenever they are stuck, they go on a character murder spree. Do you also employ that solution when the plot doesn't come easily? Was that why Aunt B died?
You guys do realize Patty was joking in that Facebook post, right?
People in books die for plot reasons. If I'm killing a child on the page, it's because I want the reader to understand in no uncertain terms that the person doing it is a horrible slime and will get everything that's coming to them. Because killing children is not okay and will not be tolerated. It happens in life and sometimes people get away with it, but if it happens in our books, the perpetrator will be punished. It's about justice and balancing the scales.
Aunt B died because she was protecting those she loved. People remember her death. It meant something. It was the ultimate expression of a parent's sacrifice, not just for Raphael but for the younger generation of the Pack. Parents do this every day in more mundane ways for their children. These sacrifices may be small, like giving up their free time to attend a ball game or large like mortgaging their house for college or medical expenses. But it's a familiar feeling to any parent out there or just any older adult, who looks at the situation and steps in.
Writers do not make those decisions lightly. Please give us some credit, heh.
Oy. That was some Monday post. I feel like I need to share an apple cake recipe or something next.
Please remember that this is an active blog and your comments will be read by at least 15,000 people today alone. We've touched on some sensitive topics here, so please take care to share only what you are comfortable with.
PS Mod R:
Whilst we, on the Ilona Andrews website, are not equipped or trained to provide help in situations of crisis, if you are affected by any of the topics discussed today, please reach out to available medical and social aid resources near you.
Here some links for the US:
Emergency Medical Services—911
If the situation is potentially life-threatening, get immediate emergency assistance by calling 911, available 24 hours a day.
National Suicide Prevention Lifeline, 988 or Live Online Chat
If you or someone you know is suicidal or in emotional distress, contact the National Suicide Prevention Lifeline. Trained crisis workers are available to talk 24 hours a day, 7 days a week. These centers provide crisis counseling and mental health referrals.
SAMHSA Treatment Referral Helpline, 1-800-662-HELP (4357)
Get general information on mental health and substance abuse and locate treatment services in your area.
Veteran Crisis Line– Dial 988 and Press 1
24/7 confidential support for veterans and their families, specializing in military-related PTSD. You do not have to be enrolled in VA benefits or health care to connect.
More resources available at Mentalhealth.gov.
Thank you to everyone who participated in the discussion. We are now locking the comments on this post to make sure the discussion doesn't veer off topic. Thank you for your understanding.