Happy anniversary!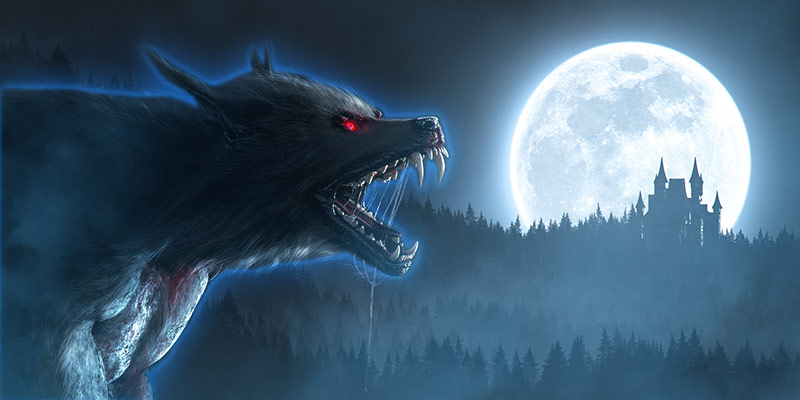 Curran: Hey, how is the shopping going?
Kate: I found really good tomatoes.
Curran: Oh good. Out of curiosity, what kind of monster looks like a rabid wolf that stands on hind legs? About eight feet tall, with big scaly bat wings?
Kate: Bear claws? Red eyes? Glows blue?
Curran: Yes, that's the one.
Kate: It's a kludde out of Belgium. Cape Fear River has been making stagnant pools all over the place after the last storm. It probably spawned in one of those. Why?
Curran: No reason.
Kate: Curran, is there a kludde in our yard?
Curran: Seems that way. So what else did you get besides tomatoes?
Kate: Where is our son?
Curran: Talking to the kludde.
Kate: What is it saying?
Curran: Something about ripping out Conlan's heart and eating it.
Kate: Okay, and what is Conlan saying?
Curran: He is asking it why that specific threat.  Ripping the heart out requires breaking the ribs and according to our son, it's "laborious" while ripping out the throat is faster, easier, and more efficient.  He seems genuinely curious, and the kludde is stumped.
Kate: Why me?
Curran: I'm watching them from the wall. I can jump down there in half a second.
Kate: If you do, don't rip its head off…
Curran: Too late. Conlan just did.
Kate: Okay, it's going to split into seven copies of itself. Look for the one that's slightly brighter than the other.
Curran: By brighter you mean?
Kate: More saturated.
Curran: …
Kate: What's going on?
Curran: He made blood claws, ripped out all of their throats, and now he is lecturing the corpses.
Kate: I think we should limit his visits to his grandfather. His tendency to orate is clearly rubbing off on Conlan, and it's too dangerous. Something could attack him, and he wouldn't notice it until it's too late.
Curran: He is nicely distracted by the sound of his own voice.
Kate: Are you going to jump down and show him the error of his ways?
Curran: Yep.
Kate: Have fun. Take pics if you can.