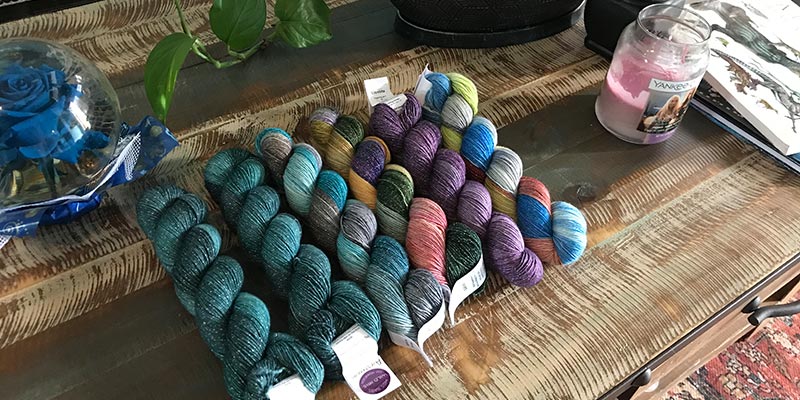 First, admin stuff. A small note on comment moderation on fiction posts: all the comments are read, so if the comment has been left up, that means we are cool with it.
I keep starting and dropping various creative projects. I was going to paint in photoshop, so I made a planet to put in the sky.
Cool, huh? Apparently, that's as far as I got. There is no painting, just the planet. I have 3/4 of a sweater and 1/4 of a shawl, both now abandoned in a knitting basket. I have 70% of a watercolor painting, which I decided to drop because it is not turning out the way I hoped.
But now I also bought this.
It's fingering yarn with shiny. There is awesome shiny. I got it on sale, mostly because I was drooling over it and Gordon told me to buy it. And I said, "But what will I make out of it?" and he said, "Yarn makes you happy. I want my wife to be happy."
Since wife word was used, I bought the yarn. And I already had some of the same type of yarn. Here is my loot artistically displayed.
So now for a very important question: what can I do with this awesome yarn that I will actually finish. The finishing is an issue.
I thought of changing it up and crocheting this pattern by CJ Brady.
But what would I do with it? Would I ever wear it?
I also thought of doing this pattern from Yarns at the Border.
But I don't know if it would with estrellita as well.
I also could just do this Garndling, which will be basically mindless.
But again, will I ever wear it?
It feels very important to finish something. I need to accomplish something besides baking. Thoughts?