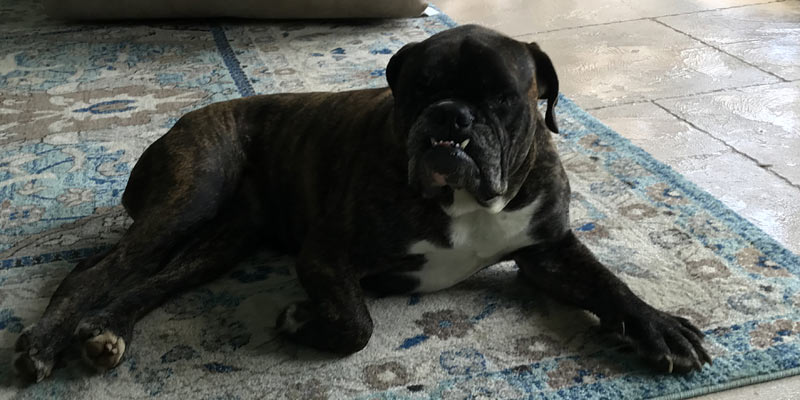 Sookie is an old doggie. Sometimes she forgets where she is. Sometimes when you tell her something, she just stares at you, a complete blank. Sookie was properly trained but now she has hit the canine equivalent of her 40's. She simply doesn't give a damn. She will obey, but it will take a firm command and persistence.
Sookie also weighs 80 lbs and is excellent at passive resistance. When asked to leave the kitchen, Sookie will frequently sit down in that sidesaddle bulldog way, depositing 80 lbs of dog on your feet and then staring sadly at you with dark eyes. You have to physically pull your feet from under her and then nudge her with your knee until she moves.
On Saturday Sookie needed a bath. Sookie is not a fan of baths.
I call her into the bedroom. She moseys over. I close our bedroom door and start taking off my workout clothes. Sookie sees me doing this and somewhere deep within her blissfully dim brain a light bulb goes off.
A shower is coming.
Sookie makes a break for the door. I laugh because I closed the door.
At the precise moment Sookie reaches the door, Oliver hits it from the other side because he wants into the bedroom. The door, which must not have been shut properly, pops open and Sookie bulldozes over the cat to freedom.
I growl, pick up my stinky workout clothes soaked with sweat, put them back on, grab a towel, and give chase.
Sookie predictably ran about ten yards to her pillow, where I find her. I wrap the towel around her neck like a leash and order her to come in a firm voice.
Sookie flops down.
Further verbal commands are useless at this point, so I pick her hind end up and set her back on her feet. We try the towel again, and this time she decides to come into the bedroom. As soon as we get there, she starts running into the suite. I take Oliver off the bed – he is not allowed – throw him out and lock the door.
The shower and the toilet in out bathroom are sectioned off in their own little room. I herd Sookie into the shower. Then I lock the door to that small room, lay down the dog towel, strip naked, and get into the shower.
Water comes on. Sookie takes it as a sign of mortal danger and tries to push past me. However, I am prepared and I block her. I successfully drench her in warm water, and then I apply shampoo. She stands still and nobly suffers. I turn to put shampoo back onto the shelf and Sookie takes off like a rocket, out of the shower and toward the door.
I swear in two languages, get Sookie back into the shower, and rinse her off. Then I apply conditioner. Because of our dry weather, our dogs often get itchy and so we use specially formulated canine oatmeal conditioner after the shampoo. The conditioner has to be rubbed into the pelt. So, I get conditioner and starts applying.
Apparently, Sookie must've blown her coat. Maybe she thinks its spring. I don't know. But I am rubbing and handfuls and handfuls of fur are coming out and stick to my wet skin. I am up to my elbow in brindled dog hair. I have chunks of it on me, on my stomach, on my legs. There is so much of it, the drain is clogged, and I have to scoop it out of the way.
I turn to put the conditioner up and Sookie takes off again.
If you happened to have opened the door at that moment, you would have seen a wet orc-looking dog running for her life and a plump female werewolf midway through a shape change chasing her, screaming incoherently.
I get her back into the shower and rinse her off. Then I dry her with a towel, and open the door. Sookie charges out and I see Gordon, who sees me covered in Sookie's fur and starts laughing.
And that's what it is like to bathe and Olde English Buldogge. How did your weekend go?